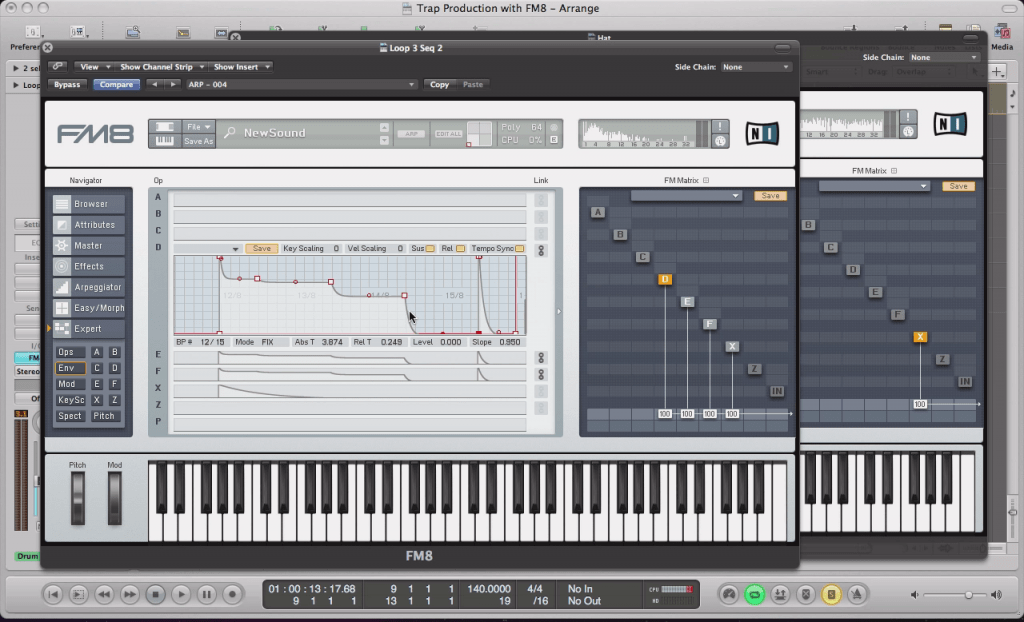 The Make Trap With FM8 course on how to create Trap drums, sub sounds, limes and loops in one hour. The opportunity to see someone else's workflow creating a song can be priceless! In these 4 parts, we'll see how to create various Trap sounds in FM8.

Make Trap With FM8 – Create Trap drums, subs, leads and loops.
Having the opportunity to see someone else's workflow in song creation can be priceless!
In this 4 part mini series, we see how to make various Trap sounds in FM8.
In this 4 part of the micro course, our resident expert Jonny walks you through the steps of designing Trap drums, a sub bass and arp, a riser and finally pulling it all together into one fantastic loop and a deep look at how to EQ / Compress / Mix Trap music.
The Drums And Subs
Videos 1 and 2 of this mini series on Trap in Fm8 focus on designing drum elements and a heavy sub. You'll learn pro tips and tricks for creating hard hitting drums and how to sequence them all within FM8. We'll also be walking you through making a rib rattling a bass with some sick tips on how to get the optimum BOOM!
Risers And Arrangements
In videos 3 and 4 we are going to take a look at creating a riser with the pitch envelope and pulling together. There's a real treat in video 4 as we take a 20 minute look at Eqing, compressing and ultimately mixing trap music.
Content
PART 1 – DRUMS
PART 2 – MAKING THE SUB & ARP
PART 3 – MAKING THE RISE & LEAD
PART 4 ​​- PRODUCING THE LOOP
Example files : none
Video format : MOV
Video : AVC, 1280×778, 1.645, 30.000 fps, ~ 1 505 Kbps
Audio : AAC, 44.1 KHz, 320 Kbps, 2 channels