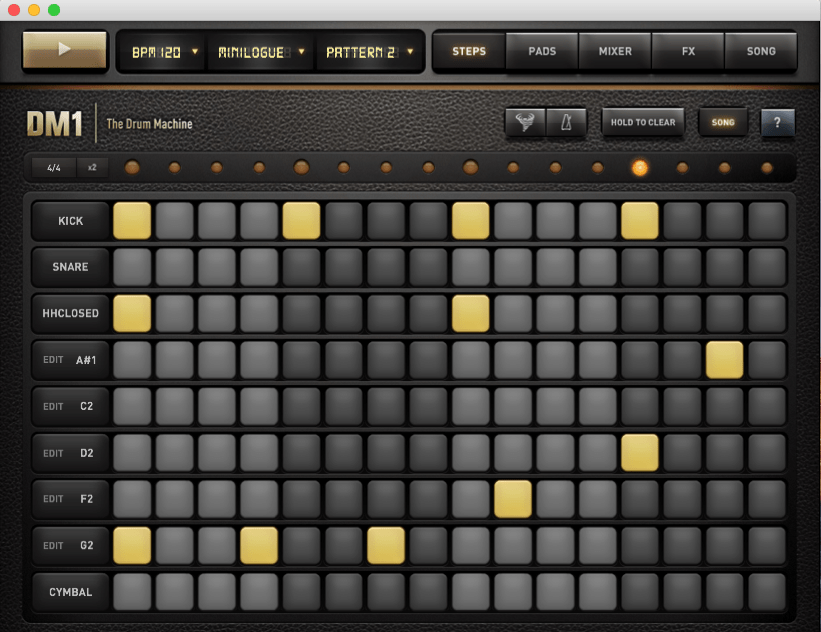 Year of manufacture : 2016
Version : 3.2
Developer : Fingerlab
Developer's site : Fingerlab
Platform : iNTEL
Language : English
Tablet : The program is treated (does not require the introduction of data)
System requirements : OS X 10.7 or later, 64-bit processor
Description : DM1 is an advanced drum machine that will turn your computer into a creative machine for creating bits. Lightweight and fast to use, filled with 86 excellent electronic drum kits and beautiful hyper-realistic graphics, the DM1 was designed for very fast creation of drum parts. With the Midi input and output, the DM1 is ready to merge with your digital workstation.
We ourselves, as electronic musicians, developed the DM1 in order to provide the perfect combination of simplicity and power of sound capabilities. We always remember the importance of beautiful design with the right balance of various abilities, avoiding clunky, excessive interfaces.
Check out our 154 drum kit. 42 classic collection sets of shock and 112 own electronic sets, edited and mastered in professional studio Fingerlab.
DM1 offers 5 main sections:
1 – STEP SEQUENCER Simply turn on and off the steps in the sequencer to create steep rhythms or unexpected rhythms!
2 – DRUM PADS simply allows you to play and record the rhythm. You do not need to be a first-class drummer – automatic quantization does the work for you.
3 – MIXER for fast and fine mixing of your drum kits. There are settings for volume, pitch, pan, sampler length, customizable drum kit for each channel, mute and solo mode.
4 – THE FX TRACKPADS – Creative FX trackpad for distortion, modulation and conversion of your beats. Effects include: Overdrive, Delay, Reverb, Phaser, Dalek, Formant, Resonant Filter and Compressor.
5 – SONG COMPOSER allows you to quickly create a song with rhythm patterns you created. Just drag the patterns onto the timeline. Fast and easy.
DM1 for OSX is fully compatible with DM1 for iPad, you can share files between them.

Sponsored Links