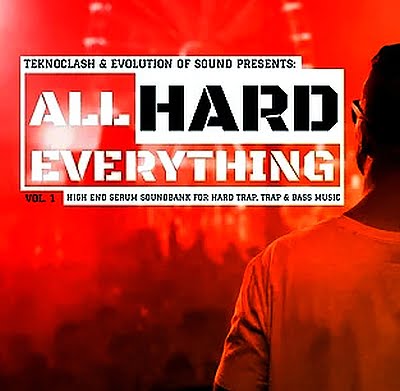 Publisher : Evosounds
Website : evosounds
Format : SYNTH PRESET
Quality : 24 bit 44.1 kHz stereo (project samples for Ableton)
---
Description : If you want to create hard drops that will drive the crowd crazy, then this set is for you. It aims to provide you with mesmerizing sounds to create the next masterpiece. Do hard or go home!
In this sound set you will find 97 presets for SERUM, ready to help you achieve your next big hit. For this set of sounds, we collaborated with another Teknoclash producer to offer you an affordable set of presets that will give you the sounds you need to make hard drops.
Inside this soundset you will find 808 bass lines that give you maximum control over your sub-low frequencies. You will find Dubstep Basslines, including evil stubs and drops, stupefying leads that will set people in motion, and most importantly, you will find sounds that are ready to draw attention to your next track.
As a bonus, we added a demo draft file for ABLETON of this package so that you can use it as reference material.
Content  :

As a bonus, we have added a project file of the demo for this pack for you to use as a reference.
If you are a producer looking for hard sounds for your next production then look no further.
All hard everything
– 97 Presets For X-FER Record Serum in the style of Trap, Hybrid Trap, Hard Trap, and Bass Music.
– Ableton Project File of the Demo Track.
Installation :

Copy the preset folder to

C: \ Users \ USERNAME \ Documents \ Xfer \ Serum Presets \ Presets
---