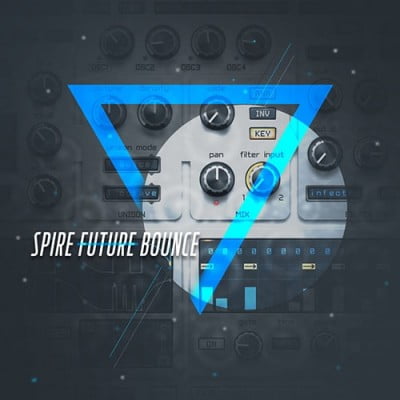 Publisher : Diginoiz
Website : www.producerloops.com/Download-Diginoiz-Spire-Future-Bounce.html
Format : SYNTH PRESET
Quality : 24 bit 44.1 kHz stereo
Description : 'Spire Future Bounce' includes 64 great sounding and fresh Spire sounds made from scratch by an experienced sound designer and producer. 20 basses, 10 chords, 23 leads 10 plucks and one noise sounds. Everything that you need to produce hot smash hits.
This pack was composed by music from Martin Garrix, Mike Williams, Oliver Heldens, Curbi and many others.
'Spire Future Bounce' contains one Spire bank with 64 synthesizer presets. 4,6 Mb material (Spire .sbf bank file) ready to use Spire.

Please Note:
Reveal Sound Spire v.1.1.12 is required for this sound set. Instrument loops and drum loops are not included in this pack and they are used in the MP3 demo for illustration purposes only. This pack contains only Spire synthesizer presets.

Royalty-Free:
All loops & samples, presets in this library are licensed to you. For more details see the license agreement.
Product Details:
• 64 Spire Presets
• .sbf Format
• 4.6 MB Unzipped

.yuzo_related_post img{width:149.5px !important; height:104px !important;}
.yuzo_related_post .relatedthumb{line-height:16px;background: !important;color:!important;}
.yuzo_related_post .relatedthumb:hover{background:#fcfcf4 !important; -webkit-transition: background 0.2s linear; -moz-transition: background 0.2s linear; -o-transition: background 0.2s linear; transition: background 0.2s linear;;color:!important;}
.yuzo_related_post .relatedthumb a{color:#303030!important;}
.yuzo_related_post .relatedthumb a:hover{ color:#8023dd}!important;}
.yuzo_related_post .relatedthumb:hover a{ color:#8023dd!important;}
.yuzo_related_post .relatedthumb:hover .yuzo__text–title{ color:#8023dd!important;}
.yuzo_related_post .yuzo_text, .yuzo_related_post .yuzo_views_post {color:!important;}
.yuzo_related_post .relatedthumb:hover .yuzo_text, .yuzo_related_post:hover .yuzo_views_post {color:!important;}
.yuzo_related_post .relatedthumb{ margin: 0px 0px 0px 0px; padding: 5px 5px 5px 5px; }
.yuzo_related_post .relatedthumb{
display:block!important;
-webkit-transition:-webkit-transform 0.3s ease-out!important;
-moz-transition:-moz-transform 0.3s ease-out!important;
-o-transition:-o-transform 0.3s ease-out!important;
-ms-transition:-ms-transform 0.3s ease-out!important;
transition:transform 0.3s ease-out!important;
}
.yuzo_related_post .relatedthumb:hover{
-moz-transform: scale(1.1);
-webkit-transform: scale(1.1);
-o-transform: scale(1.1);
-ms-transform: scale(1.1);
transform: scale(1.1)
}
.yuzo_related_post{
overflow:inherit!important;
}
jQuery(document).ready(function( $ ){
jQuery('.yuzo_related_post .yuzo_wraps').equalizer({ columns : '> div' });
});




[ad_2]