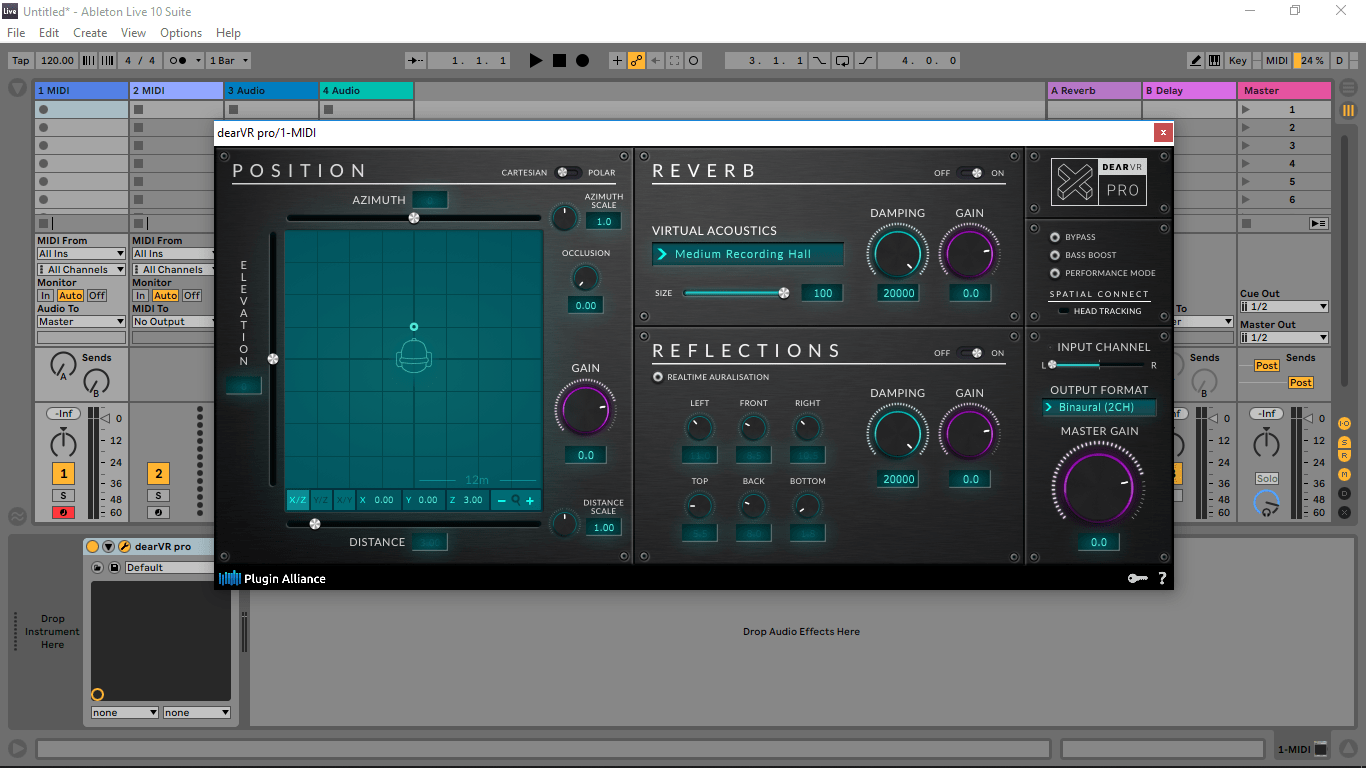 Year / Release Date : 10/17/2018
Version : 1.2.0
Developer : Dear Reality
Developer site : Dearvr
Format : VST / VST3 / AAX
Digit capacity : 32bit, 64bit
Tabletka : cured
System requirements : Windows 7 through 10
Intel-compatible CPU with SSE2 instruction set (Pentium 4 compatible or higher; minimum 2 GHz recommended)
Pro Tools 10.3.10 or higher or most VST / VST3 / AU-compatible hosts system
Description : Modern algorithms of Dear Reality have been the basis of three-dimensional audio production for many years. Now, for the first time, their spatial processing has become available in the all-in-one plugin for your DAW: dearVR pro. Say goodbye to costly bulky software packages and complex routing schemes. All the tools you need to create stunning, exciting 3D sound for virtual reality (VR) and augmented reality videos (AR), movies and games are included in the powerful, but fast and intuitive interface of dearVR pro.
SUPPORTED SAMPLE RATES
44.1, 48, 88.2, 96, 176.4, 196kHz
All standard bitrates are supported (16/24/32)
Two modes of operation allow you to choose how to work.
Simply drag the mouse pointer using the graphic XYZ pad of the plug-in to position the sound of the track anywhere in the 3D-sound space: behind or in front of the listener, above or below the head, left or right, closer or further.
Or use separate sliders to adjust the height, azimuth and distance from the listener.
dearVR provides 46 bright virtual acoustic environments that are characterized by realistic 3D placement and depth, in which you can place the sound of an object and move it in real time.
Among the many choices there are concert halls, car interiors, rooms of various sizes, a church, a basement, a stairwell, a bathroom, a cabin, a warehouse, an arena, a street and a lively stage.
Each environment can be instantly and independently called for each instance of the plug-in, allowing you to place the sound of each object in a different space.
You can change the shape, size, and texture of your chosen virtual space using controls that regulate its size, damping, and the balance of early reflections and reverb diffusion.
In Realtime Auralization mode, rotate the six knobs to adjust the distance from the listener to the four walls, the ceiling and the floor in your virtual space accordingly;
as you move your sound around, the delay time and the direction of arrival of early reflections bouncing off virtual boundaries change – as in real-world conditions.
The Occlusion control allows you to adjust the sound of an object to match the blocking by another virtual object relative to the listener.
And if the sound of the track does not move in perfect synchronization with the corresponding visual element, you can adjust its animation curve using separate zoom controls for the azimuth and distance parameter ranges to make the presentation and sound perfectly matched.
DearVR pro delivers high-quality three-dimensional sound in seven formats (including audio for 360-degree videos on YouTube and Facebook) that meet all professional requirements for any VR or AR production.
Select 2-channel binaural format for fully immersive playback using ordinary headphones.
Or choose 4-channel, 9-channel or 16-channel Ambisonics output in AmbiX or Furse Malham (FuMA) format.
The 46 main virtual acoustic environments of the plug-in can also be used as ordinary reverbs in 2D stereo mixes, doubling their effectiveness in music production.
What's new:
• Headtracking Control by dearVR SPATIAL CONNECT
• Improved performance
• Smoother transitions when changing virtual acoustics presets.
• UI Update
• Minor Bugfixes