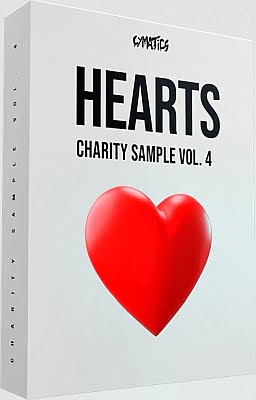 Publisher: Cymatics
Website: cymatics
Format: MIDI, WAV, MP3, SYTRUS
Quality: WAV: 16, 24 and 32 bit 44.1 and 48 kHz stereo; MP3: 320 kbps 44.1 kHz Joint stereo
---
Description: Millions of people go hungry every year, especially during the holidays, so we wanted to try to make changes to our platform.
Our goal is to raise $ 100,000 with this charitable sample pack to feed as many people around the world as possible.
We contacted a lot of our great producer friends in the industry and we ended up with this amazing and varied collection of samples.
The cool thing about this pack is that each producer's sound folder is essentially a snapshot of the thoughts of how they produce.
And with such a wide variety of sample styles inside, our Hearts Kits easily become one of the very best kits for projects.
Content :
Packages from producers:
7 Skies
AbSynapse
Adam Ivy
Andrei Stephen
Andrew Huang
Benedict quinn
Chris punsalan
Cymatics
Cymatics – Hearts Vol 4 Stems and MIDI
Drew cymatics
Ephwurd
FXLICIA
High 'n' Rich
Huston singletary
Iveen
Jem
Joey sturgis tones
Julian griffin
Jupe
Kompany
L. Dre
Larry ohh
Look mum no drums
Madenka
Matty beats
Phrazian
Praxi
Producer Grind
Riot ten
Shanahan
Simon servida
Slow Magic
SuperStarO
---