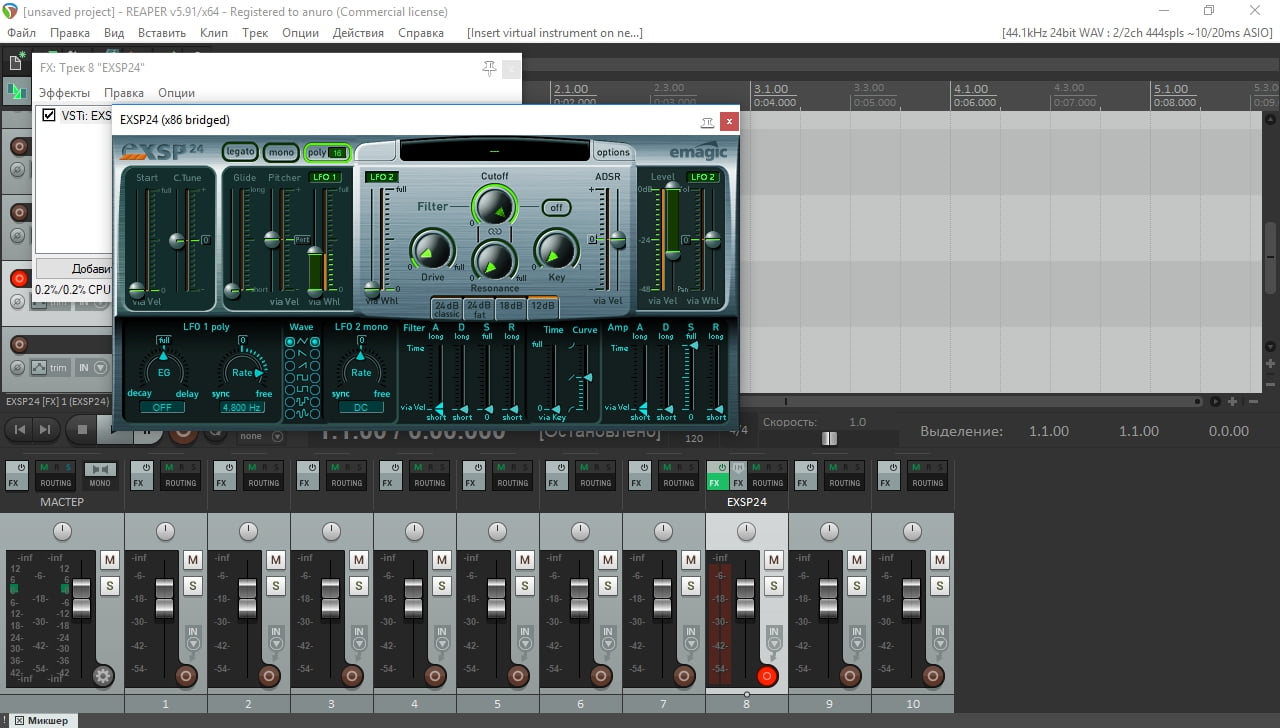 Year / Date of Issue : 06/02/2018
Release : 5.91
Developer : Cockos
Developer's site : Cockos
Bit depth : 32bit, 64bit
Language : English, Russian
Tabletka : present
System requirements : Windows XP, Vista, Windows 7, Windows 8, and Windows 10.
Description : Cockos Reaper is one of the most advanced programs for creating music, both in the studio and at home. The main "chip" of the program is that it has pattern, keyboard and audio editing. You can specify an unlimited number of audio or MIDI tracks, not counting how many virtual instruments can be added to the VST format.
Reaper does not take such a large place on the hard drive and does not load the processor, as programs from the series FL Studio, Cubase, Reason or Sonar. With this program you can work even on low-power computers with sound cards that do not support Full duplex modes. Although, if the sound card supports this mode, you will get unlimited possibilities to create your own compositions with professional sound even in such formats as 5 + 1, and in the presence of additional plug-ins, and 7 + 1.
To the great advantage of the program is that it supports VST / VST3, not counting the support for DirectX plug-ins. You can use both built-in audio editing tools or MIDI tracks, and third-party plug-ins. The program also supports the ReWire virtual instruments connection system. Thanks to a harmonious interface, you can always see what you are editing at the moment. Virtual multi-channel remote is always in front of your eyes – with its help you can instantly perform operations with changing the volume, editing effects on a single track, or on a Master track.
Sponsored Links
New in version:
ReaScript
add drag and drop receive support with gfx.getdropfile () / gfx_getdropfile ()
allow deferred script execution to continue during modal windows triggered by MIDI
fix SnapToGrid () for slightly-offscreen points
StuffMIDIMessage () for control defers to process similar to a hardware MIDI event
Accessibility
improved navigation for control surface configuration
label AI properties sliders
FX
fix shortcut for video processors
fix truncated labels for insert chain actions
MusicXML
fix memory error on musicXML import
import files with .musicxml extension as well as .xml
always import MusicXML files to built-in project MIDI, rather than file reference
ReaSurround
fix small UI positioning glitch
fix memory leak
Routing
update affected tracks when adding hardware outputs masse •
repopulate channel selection list
Guides
do not draw horizontal guides when moving items
MIDI editor
update CC lane combo boxes when loading note names •
Render
fix $ samplerate wildcard (uses render samplerate rather than audio device rate)
Snap
increase item quantize and stretch marker snap behavior near tempo markers •
Stability
prevent deadlock when using SetObjectState () with certain state on track FX (SWS issue ID 992) •
VST
do not inform VST3 of track channel changes by default, allow override for all instances of a plug-in or per-instance with channel

[ad_2]