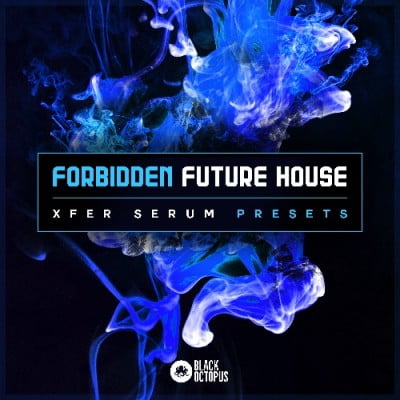 Publisher : Black Octopus Sound
Website : blackoctopus-sound.com/product/forbidden-future-house/
Format : SYNTH PRESET
Quality : 24 bit 44.1 kHz stereo
Description : For people who dream of making a chart topping Beatport hit, this incredibly engineered pack of Serum presets will help you be ahead of the pack! This Serum preset kit contains the perfect ingredients for your next tasty future house track. This pack is made by artists such as Tchami and Oliver Heldens but with a twist of originality. This is the perfect bass this pack has something to offer!

Containing:
40 Fire Future House Basses
12 Essential Plucks & Chords
8 Extra Juicy Basses
4 Tasty Leads
The assigned macro controls will transform each preset from one ground to the next. With the presets adjusting to your projects tempo they are not only good for the future house, they are also perfect for adding that to the Electro House track, extra crunch to your Trance track, or a properly fitted slice in your Complextro drop.
Produced by Tevlo, this is an essential pack for your collection!

.yuzo_related_post img{width:149.5px !important; height:104px !important;}
.yuzo_related_post .relatedthumb{line-height:16px;background: !important;color:!important;}
.yuzo_related_post .relatedthumb:hover{background:#fcfcf4 !important; -webkit-transition: background 0.2s linear; -moz-transition: background 0.2s linear; -o-transition: background 0.2s linear; transition: background 0.2s linear;;color:!important;}
.yuzo_related_post .relatedthumb a{color:#303030!important;}
.yuzo_related_post .relatedthumb a:hover{ color:#8023dd}!important;}
.yuzo_related_post .relatedthumb:hover a{ color:#8023dd!important;}
.yuzo_related_post .relatedthumb:hover .yuzo__text–title{ color:#8023dd!important;}
.yuzo_related_post .yuzo_text, .yuzo_related_post .yuzo_views_post {color:!important;}
.yuzo_related_post .relatedthumb:hover .yuzo_text, .yuzo_related_post:hover .yuzo_views_post {color:!important;}
.yuzo_related_post .relatedthumb{ margin: 0px 0px 0px 0px; padding: 5px 5px 5px 5px; }
.yuzo_related_post .relatedthumb{
display:block!important;
-webkit-transition:-webkit-transform 0.3s ease-out!important;
-moz-transition:-moz-transform 0.3s ease-out!important;
-o-transition:-o-transform 0.3s ease-out!important;
-ms-transition:-ms-transform 0.3s ease-out!important;
transition:transform 0.3s ease-out!important;
}
.yuzo_related_post .relatedthumb:hover{
-moz-transform: scale(1.1);
-webkit-transform: scale(1.1);
-o-transform: scale(1.1);
-ms-transform: scale(1.1);
transform: scale(1.1)
}
.yuzo_related_post{
overflow:inherit!important;
}
jQuery(document).ready(function( $ ){
jQuery('.yuzo_related_post .yuzo_wraps').equalizer({ columns : '> div' });
});




[ad_2]