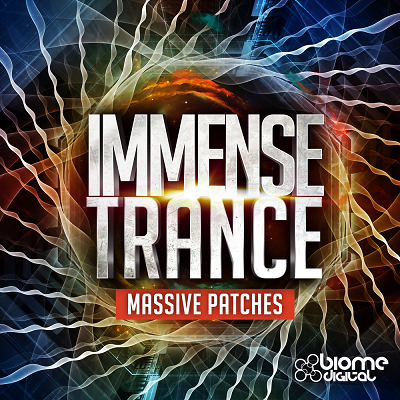 Immense Trance for Native Instruments MASSIVE is an essential collection of Trance patches that pushes the modulation capabilities to the max!
Featuring 114 brand new patchwork tracks, including deep analogue style basses, ripping electro leads, cosmic poly-synths, anthemic pads and Trance-inducing arps and sequences.
Each patch heavily utilises MASSIVE's modulations & controls with all eight Macros assigned and many patches using Velocity and Aftertouch for expressive playing and even more control.
These patches are perfect for all Trance genres, including, for example, EDM, Progressive House, Electro House and any other epic style!
If you're looking for Massive Trance patches, make sure they're Immense!
Product Details:
– 114 Patches for Native Instruments MASSIVE Synthesiser (.nmsv)
– All eight Macros assigned with complex modulations
– Patches are optimized for playback on full range keyboards
– Properly tagged patches for easy searching
KEY (no. Of patches)
– BA = Basses (20)
– LM = Mono Leads (20)
– LP = Poly Leads and Keys (18)
– PA = Pads and Strings (18)
– PL = Plucky Leads and Synths (20)
– SE = Sequences and Arpeggios (18)

.yuzo_related_post img{width:149.5px !important; height:104px !important;}
.yuzo_related_post .relatedthumb{line-height:16px;background: !important;color:!important;}
.yuzo_related_post .relatedthumb:hover{background:#fcfcf4 !important; -webkit-transition: background 0.2s linear; -moz-transition: background 0.2s linear; -o-transition: background 0.2s linear; transition: background 0.2s linear;;color:!important;}
.yuzo_related_post .relatedthumb a{color:#303030!important;}
.yuzo_related_post .relatedthumb a:hover{ color:#8023dd}!important;}
.yuzo_related_post .relatedthumb:hover a{ color:#8023dd!important;}
.yuzo_related_post .relatedthumb:hover .yuzo__text–title{ color:#8023dd!important;}
.yuzo_related_post .yuzo_text, .yuzo_related_post .yuzo_views_post {color:!important;}
.yuzo_related_post .relatedthumb:hover .yuzo_text, .yuzo_related_post:hover .yuzo_views_post {color:!important;}
.yuzo_related_post .relatedthumb{ margin: 0px 0px 0px 0px; padding: 5px 5px 5px 5px; }
.yuzo_related_post .relatedthumb{
display:block!important;
-webkit-transition:-webkit-transform 0.3s ease-out!important;
-moz-transition:-moz-transform 0.3s ease-out!important;
-o-transition:-o-transform 0.3s ease-out!important;
-ms-transition:-ms-transform 0.3s ease-out!important;
transition:transform 0.3s ease-out!important;
}
.yuzo_related_post .relatedthumb:hover{
-moz-transform: scale(1.1);
-webkit-transform: scale(1.1);
-o-transform: scale(1.1);
-ms-transform: scale(1.1);
transform: scale(1.1)
}
.yuzo_related_post{
overflow:inherit!important;
}
jQuery(document).ready(function( $ ){
jQuery('.yuzo_related_post .yuzo_wraps').equalizer({ columns : '> div' });
});




[ad_2]