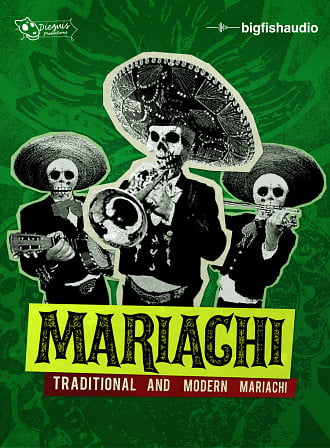 Publisher : Big Fish Audio
Website : Big Fish Audio
Format : AIFF, REX2, WAV, KONTAKT
Quality : 24 bit 44.1 kHz stereo
---
Description : Embrace the swagger and influence of Mexican music by Mariachi. Spice up your tracks with Son Jaliscience, Ranchera, Huapango, Jarabe and other traditional and modern rhythms of Mexico that will make you scream – Que Viva el Mariachi! Easily weave the spirit of Mexico into your track with raw Gritos vocals, melodic Coro vocals, low Guitarron sounds, unbridled chords played from Vihuela and Guitar, and no mariachi would be complete without spicy, soaring melodies coming from violins and trumpets.
---
Content:
This 3 GB (1.26 GB of 24-bit WAV files) collection of Mariachi Music is 100% live played. Every loop is hand-made and will add just the right amount of hot and spicy for that authentic vibe you tracks crave. The Violin (1st, 2nd and 3rd) and Trumpet (1st and 2nd) loops have been separated giving you the unique option and flexibility of creating simple or complex harmonies. Both the Violin and Trumpet contain two separate melodic phrases for each and every song section in every kit. This allows you to mix and match melodic phrases for virtually an unlimited amount of creative possibilities. So give your tracks that authentic shot of Mexican bravado, explore the unique sounds of the Mexican Mariachi and experience the spirit of Mexico.
¡Que Viva el Mariachi!
Mariachi Kontakt version is part of our KLI Series and includes a custom user interface with various features to help make it easier to customize the include loops and sounds exactly how you want. You'll find all loops automatically sync to your host tempo. Each loop is presented in four different ways.
First, with the "Kit Combos" you'll find each loop as part of a complete construction kit laid out across the keyboard for easy and quick arrangements.
Second, with the "Single Instruments" you'll find that each instrument is grouped into like instruments to allow you to quickly find all specific instruments in the library.
Third, each loop has it's own patch in the "sliced ​​loops" section with our custom loop editing interface. Rearrange, remix, or completely rework each loop to fit with your music exactly how you want.
Finally we have included a demo section for quick auditioning of the entire library.
The KLI version of this product comes with the KLI 2.0 update and comes in both Kontakt 4 and Kontakt 5 versions. For those with the full version of Kontakt 5, take advantage of the new high quality and extremely flexible new time stretching algorithm as well as a bunch of new included FX.

Multi Format Version:
– 3 GB of material (1.26 GB of 24-bit WAV files)
– 2,078 files for WAV, REX and Apple Loops
– 6 massive construction kits: Each kit contains a demo mix, each and every melodic, rhythmic and textural element broken out into stackable song sections. Trumpets and violins contain two different melodic phrases for each and every song section in every kit, allowing you to mix and match and tweak to your hearts content. Create the exact amount of texture you desire.
– 683 WAV Loops
– 683 Apple Loops
– 712 REX Loops
Instruments Include:
Gritos – Vocals (22 Audio Files)
Guitarron – Bass (66 Audio Files)
Guitar (65 Audio Files)
Vihuela (64 Audio Files)
Trumpet (188 Audio Files)
Violins (272 Audio Files)