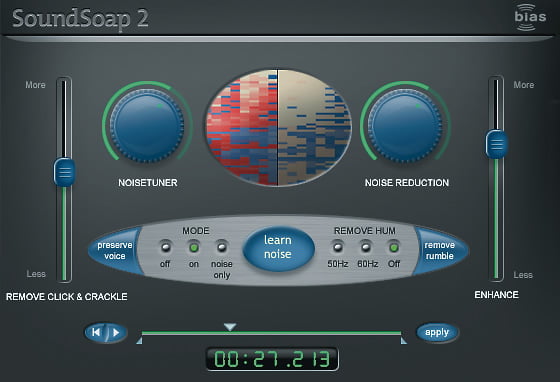 SoundSoap Pro 2 is an advanced noise reduction audio restoration plug-in that's powerful enough for demanding audio professionals, yet easy enough for anyone to use.
SoundSoap Pro's unique and comprehensive approach combines hum, rumble, click, crackle, and broadband noise reduction tools with a sophisticated noise gate, in a single intuitive user interface.
Unlike other audio restoration tools, this streamlined, tab-based interface guides the user through the various tools in a way that yields the best results in the least amount of time.
SoundSoap dramatically reduces tape hiss, buzzing and hum, rumble, and most other types of background noise.
Features:
SoundSoap's easy & intuitive workspace makes cleaning audio a snap – while its unique Wash Window shows how well it works.
Removes hiss, hum & buzzing, rumble & most other noise – without harming the audio you wish to preserve.
Use SoundSoap's one-step Learn Noise button to automatically reduce noise – or use its manual controls for more advanced applications.
Standalone version works with any QuickTime-compatible audio or video file (AVI, DV, .WAV, SDII, AIFF, MP3, MP4 & many more).
Preserve Voice button helps remove noise (and other audio) outside of the range of the human voice.
Hum removal optimized for 60 Hertz (North America, etc.) or 50 Hertz (Europe, Australia, etc.).
Noise Only mode lets you listen only to the noise being removed – & is ideal for fine-tuning SoundSoap's controls.