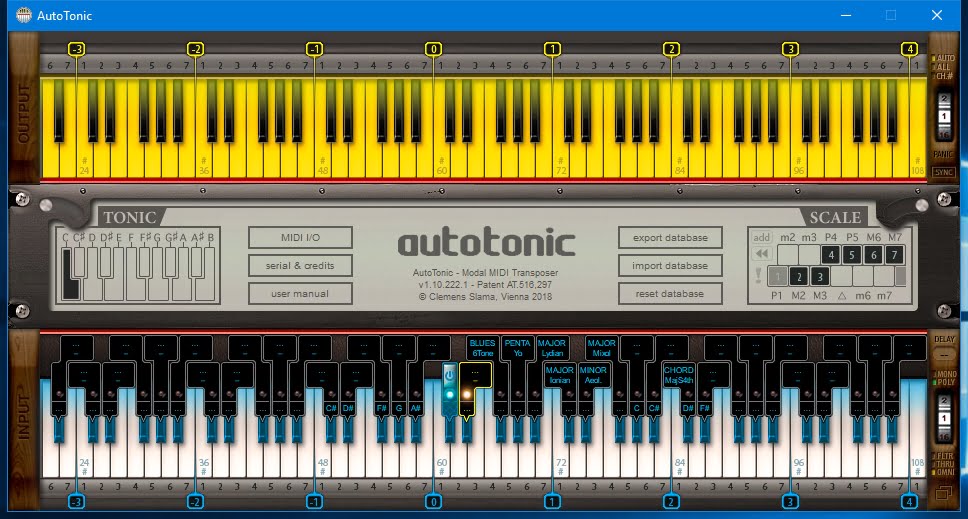 Year / Release Date : 09.2018
Version : 1.10.222.1
Developer : AutoTonic
Developer site : AutoTonic
Digit capacity : 32bit
Interface Language : English
Tabletka : present
System requirements : Windows XP (on PC). At least 256 MB of RAM and 10 MB of free hard drive space
Description : Based on the patented Modal Transposing technology, AutoTonic reinterprets the way your keyboard works. AutoTonic is not just a utility that keeps your game in a certain key, the program goes far beyond the limits, forcing any existing MIDI keyboard to become a new instrument. With AutoTonic, you don't have to spend hundreds or several thousand dollars on an exotic music device — now you can simply "remake" your existing MIDI keyboard to make it look like a new controller. Any gamma. Any chord. All in real time. Try it now. You will be surprised.
With 24,576 gamuts, this real-time MIDI transposer of notes is designed for a computer-based composer, just like the equalizer and compressor plug-ins for a sound engineer are a tool that you will not miss as soon as you start using it. Convert notes to complex music by pressing a button. There are not many things you can do to improve your creativity, but one of them is AutoTonic. So if you are looking for an application for MIDI chords and scales, you have found it!
Sponsored Links
New in version:
Once again, it's a clearer appearance,
MULTI mode for Headers -> when "MULTI" is ON then headers will listen.
OMNI / FILTER / THRU -> signal path, can you read more accurately now (includes MIDI CC, Aftertouch, Channel Pressure etc, now), bugfixes
MONOPHONIC / POLYPHONIC (MONO / POLY mode)
For example, it can be triggered before it can be triggered.
DELAY can be set from 0-999 ms
ALT + click on DELAY will reset value to "0"
use clickdrag or double-click for numerical entry
when POWER = off both black and white keys are delayed
New output routing methods:
CH. # – current selected output channel
ALL – sends to Ch. # 1-16 simultaneously
AUTO – sends to the corresponding MIDI channel automatically
PANIC feature
left click on pANIC sends note off on signals 0-127 on selected CH. #
ALT + click on PANIC sends Note Off Offsets 0-127 to ALL 1-16 MID channels
New Shortcut: ALT + click on input / output scrollwheel:
@input: resets filter method to "1-OMNI" (filter method "OMNI" with scrollwheel set to Ch. # 1)
@output: resets filter method to "AUTO-1" (filter method "AUTO" with scrollwheel set to Ch. # 1)
SYNC function
Performance improvements
UI changes