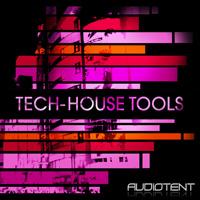 Manufacturer: Audiotent
Website: Audiotent
Format: Wav, Midi
Quality: 24 bit Frequency 44.1 kHz Stereo channels
---
Description: Tech-House Tools collection of drum samples, bass, percussion loops, synthesizers and 60 MIDI files for the Tech House style. Samples are recorded in 24-Bit WAV format.
Content :
160 Wav Loops
60 Midi Files
Audiotent return with 340MB of chunky big-room beats, fat 'n' filthy basslines, jacked percussion loops, killer kick-free tops, juicy tech synths, plus 60 associated Midi files for melodic elements.
Aimed squarely at the mainroom, Tech-House Tools merges peak-time tech energy, hints of minimal-inspired drum programming and a sprinkle and deep-tech synthesis to create an essential collection of club-smashing elements.
The collection features 20 deep and bouncing bass loops, 20 fully-formed floor-rocking drum loops, 40 mixed nu-perc loops, 40 melodic and stabbed leads and 40 kick-free tops.
There's also a folder of 60 Midi files for the melodic elements – 20 bass files and 40 synth files. Midi gives you the creative freedom to choose the sound, key, velocity and notation, amongst other things, so your groove sits right.
The collection is presented in industry-standard 24-bit Wav format and all loops are precision cut to slot together seamlessly.
---