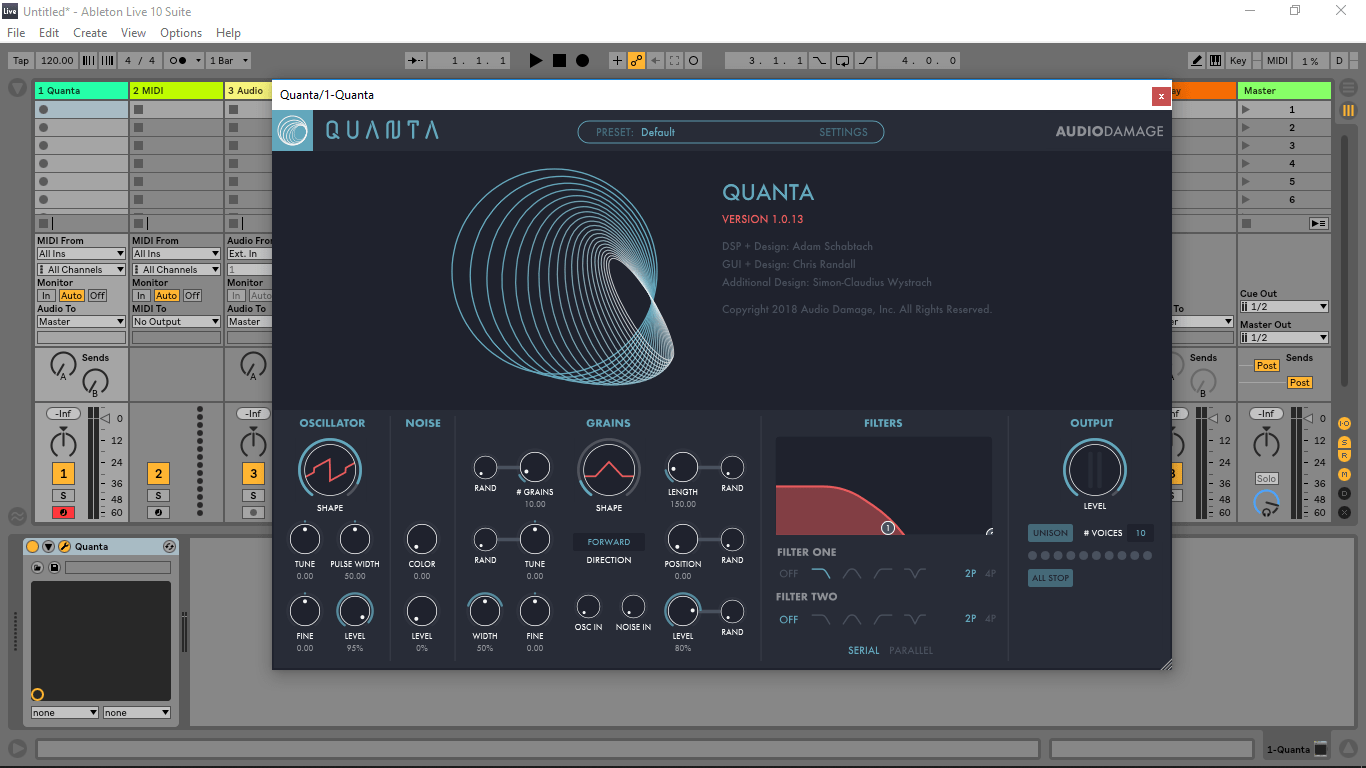 24.7.2018 Distribution updated to 1.0.13
Year / Release Date : 07/24/2018
Version : 1.0.13
Developer : Audiodamage
Developer website : www.audiodamage.com
Format : VST / VSTi / VST3 / AAX / AudioUnit
Digit capacity : 32bit, 64bit
Tabletka : cured
System Requirements :
VST 32/64-bit, VST3 32/64-bit, AAX 64-bit
Windows 8.1 or newer and a 32 or 64 bit DAW.
VST 64-bit, VST3 64-bit, AAX 64-bit, AudioUnit 64-bit
10.9 Mavericks or newer and a 64-bit DAW.  AUv3 64-bit, IAA & Standalone 64-bit
iOS 11 or newer and a separate purchase in the iOS App Store. Coming soon!
Description : Granular Synthesizer for MacOS and Windows (with IOS version coming soon)
CHANGES IN V1.0.13
The waveform rewritten much lower CPU usage.
> Error while setting envelopes that caused hard crash fixed.
> Error loading new sample that caused hard crash fixed.
> Added a lot of minor optimizations and errors are considered.
> Codebase syncs among all versions (IOS, MacOS and Windows)
Granulate
Quanta is a true stereo full-featured ten-voice synthesizer grainy, accurate to one hundred 1000ms of grain per voice, and full control of the state of the grain, with direct randomization and modulation of most parameters. Drag and drop the sample (wav, aiff, ogg or flac) to the window and go to work.
Synthesize
Using two multi-mode filters (with LP, HP, BP and a notch in the 2-pole and 4-pole topologies) and a virtual analog generator and a "side" noise generator, which can be used in addition to, or injected into, a grain engine, Quanta is a fully capable subtractive synthesizer in its own right, and will work as a granular or subtractive (or both) synthesizer without any sample at all.
Modulate
Quanta has a mod coming out of the ears. First four of our new FEGS (flexible envelope generator), 99-point function, twist generator with the ability to synchronize with the tempo of the host a. Then add two arbitrary-waveform LFOs, a sample and hold module from multiple sources, and is completely controlled by the MIDI destination user, with almost every control on the panel as a destination.
Control
Quanta is customized to your taste and style of play. With full MPE support, he can take advantage of the advanced control set of your Linnstrument, Seaboard, Soundplane, Continuum, or another PDV controller, as well as support for TUN files allowing you to use table settings. Adjustable Hi-DPI GUI allows you to adjust the size to fit your visual needs, and the cross-platform pre-mechanism allows you not to share your creations with friends and co-workers, no matter what system they use.