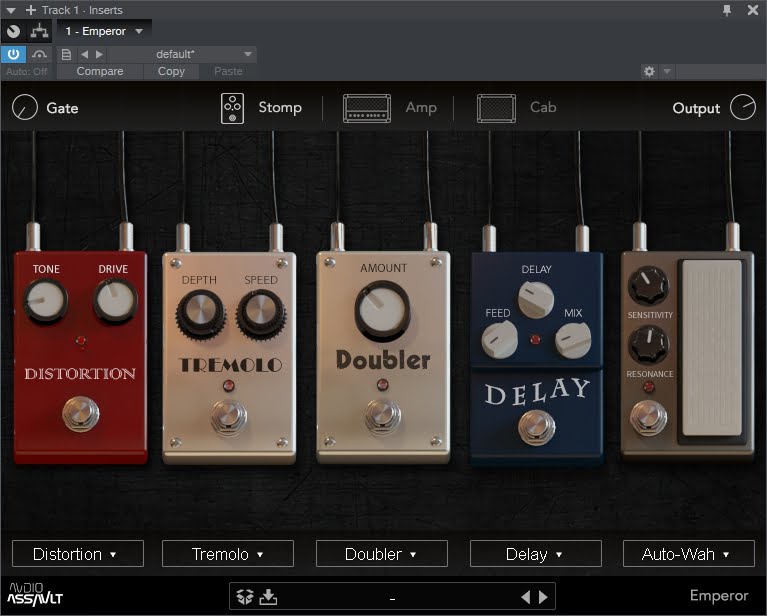 Year / Release Date : 09.2018
Version : 1.0
Developer : Audio Assault
Developer Website : Audio Assault
Format : VST, VST3, RTAS, AAX, AU
Digit capacity : 32bit, 64bit
Tabletka : cured
System requirements : Available as VST / VST3 / AU & AAX Plug-Ins for Windows & OS X
Description : Emperor is part of our amplifier series, each containing a complete guitar installation in one easy-to-use plug-in! Emperor is inspired by the patented combination of modern metal legends, with brightness and density that can be cut through the most filled mixes.
Combined with a flexible pedal and chain effects, as well as our Virtual Cabinet with an additional IR boot, the Emperor makes it easy to improve the tone!
Planning :
Emperor uses an intuitive set of tools that simulates the familiar tuning of most guitar equipment, making it easy at all levels of skill! The top panel is equipped with a noise gate for noise reduction, as well as sections Stomp, Amp and Cab, and then linear control of the output signal.
Amplifier section : The heart and soul of Emperor – a two-channel huge amplifier! Emperor defaults to using Channel 1, which contains parameters for gain, bass, mid and high frequencies. Channel 2 has parameters for amplification, bass, mids, treble and presence effect. Both channels have fairly clear sound at low gain settings, but none of them will be completely clear. This allows you to use a variety of shades of tones, from the crunchy rhythm to the gentle. If you need lush, completely clean tones, the Emperor is not for you. The "ON" switch allows you to bypass the head of the guitar amp, allowing you to use the Stomp or Cab sections if necessary. Each parameter of the Amp section can be automated, which allows you to get flexible settings!
Stomp Section : The Stomp section has 5 pedal slots, allowing you to choose any combination of 10 included guitar pedals. An additional FX chain allows you to put any pedal into the effects chain of the amplifier head, allowing the pedals to process the output signal. Each pedal in the Stomp section can be automated.
Pedals included :
Boost : adds high frequencies to the signal and is controlled by one knob!
Screamer : Based on the legendary green pedal with overdrive, the Screamer can be used as a net boost to high frequencies or to add an overdrive!
Compressor : This is a 4-parameter compressor designed to add sustain and attack an incoming signal or control the dynamics of an output signal when placed in an FX circuit.
Distortion : a 2-parameter distortion block that can be set from soft overdrive to unpleasant fuzzy metallic tones!
Chorus : A modulation monster that can be customized from classic rock music to Nu Metal! The included mixing knob allows you to fine-tune the right amount of effect!
Tremolo : Not only for rock, this pedal will add movement and contrast to your tone!
Doubler : not just a small delay, this effect breaks the signal into two and changes the shape of one of them to create a convincing doubling effect!
Delay : A flexible delay system that can add depth and space to your tone!
Reverb : A very simple but flexible reverb unit that is great for emulating small spaces or drones!
Auto-Wah : This pedal with character! Using the sensitivity control to switch between Auto and Manual and the resonance control, you can choose how strong the Wah effect will be!
Cab Section : In the Cab section, our virtual classroom technology is used to provide the sensation and microdynamic movements of a real speaker in a real room! In this section there is a virtual microphone that you can move to adjust your tone, and allows you to choose from 4 microphone models and cabinets! The included HP and LP filters help shape the output signal, perfectly fitting your mix. Use the distance slider to adjust the proximity of the microphone to the cabinet. The "Cabinet" menu also allows you to access the integrated IR downloader, allowing you to use your own IR collection!
Microphones on :
Dynamic 57 : Based on the famous microphone! You know him!
Condensor T1 : Based on the legendary large diaphragm condenser microphone and which reproduces the mids well!
Ribbon 121 : Based on a classic dynamic ribbon microphone. This microphone is well known for holding high mids well!
Dynamic 421 : Based on another studio workhorse, the 421 provides good mid-range transmission without catching the upper frequency range too much!
Included Cabinets :
British 4×12 : Based on a legend that helped identify rock and metal!
American 2×12: based on a series of legendary combo amps from the name from which Rock & Roll originates.
Japanese 2×12 : Based on the popular Japanese line of cabinets that perfectly reproduce the lower frequencies!
German 4×12 : Based on the legendary German cabinet, beloved in Rock & Metal, transmitting the presence of mids!
IR Cabinet : Selecting "IR Cabinet" will change the microphone selector to an IR selector, allowing you to select one of the 14 included user IR cabinets. "IR Cabinet" will bypass the virtual offices. The folder icon on the right allows you to access the folder that contains the IR, which allows you to add your own IR collection to the folder of the directory.