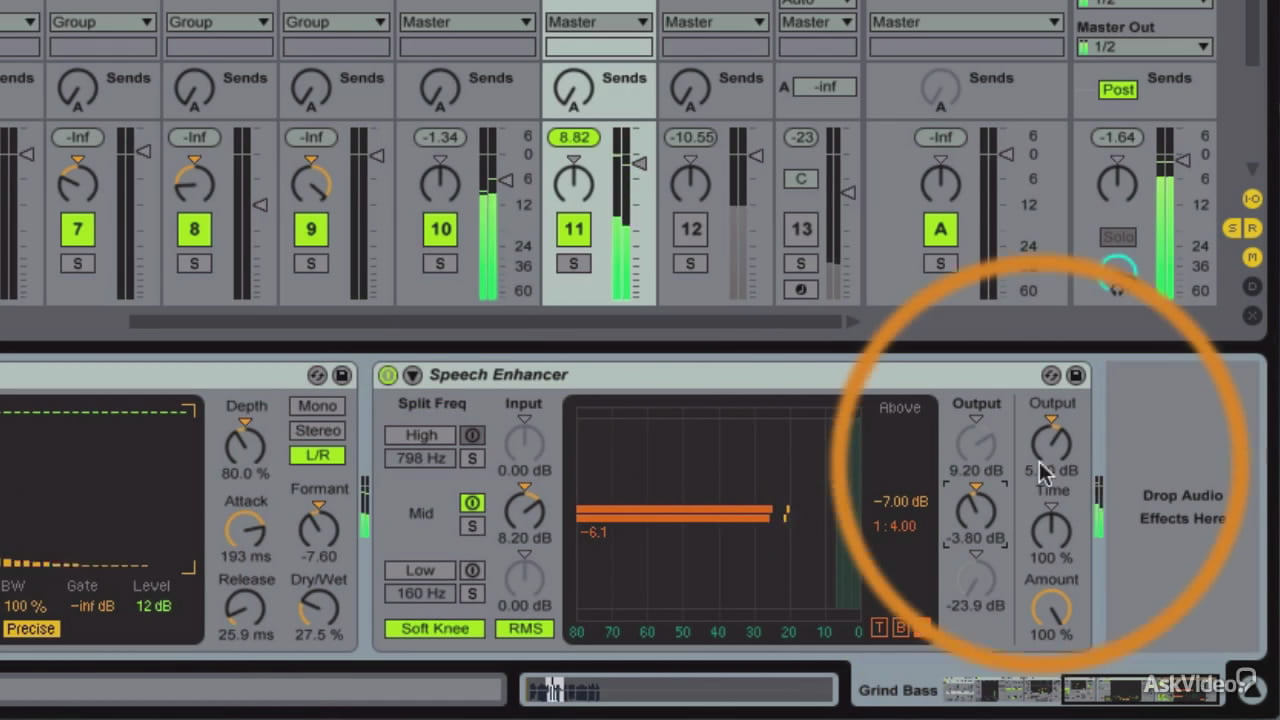 Year of release : 2014
Manufacturer : Ask Video
Manufacturer site : www.askvideo.com/course/live-recording-audio-and-audio-effects
Posted by : Bill Burgess
Duration : 02:45:49
Type of handing out material : Video Tutorial
Language : English

Description : There is one old audio saying: trash at the entrance – trash at the exit. Trash is great, but sometimes you want an untouched, clear, undistorted sound. In this course, the indefatigable Bill Burgess explains how best to record transform and process sound in Ableton Live.
There's an old audio saying: Garbage in, garbage out. Trash is cool, but sometimes you want that pristine, clean, pure and undistorted audio. This is the best way to play music.
Solid tracks begin with solid audio. Solid audio begins with solid audio capture techniques. This is an epic audio journey where you work in Live.
You start with the fundamentals. Sample rate, latency, bit depth and gain staging. These are the essential ingredients of well-recorded audio. From there, Bill dives right into recording. You learn to record single and multiple tracks. If you're perfected by a longtime user of Live.
Next up is a collection of tutorials that dive even deeper into the recording process. Record your audio, audio and audio clips. This course concludes with audio effect tools.
There is a lot of effort to make it out.
Content
01 Setting Up Audio Interfaces (07:18) PREVIEW
02 Sample Rate & Bit Depth (04:52)
03 Optimize Buffer Size & Latency (03:08)
04 Gain Staging: Getting Clean Levels (06:28)
05 11 Things That Adversely Affect Audio Quality (10:17)
06 Using The Metronome to Count-In (03:16)
07 Recording Multiple Tracks (08:54)
08 Where Recordings Are Stored (03:45) PREVIEW
09 Record Multiple Takes with Loop Recording (04:51)
10 Punching In & Out (03:36)
11 Recording With Effects (03:31)
12 Optimizing Results With Headphone Mixes (09:52)
13 Record Into Session Slots (09:40)
14 Record Using a Control Surface (04:40)
15 Record Using Key Commands (04:43)
16 Record Using an Apple Remote or iOS Device (04:58)
17 "Loop Recording Using Looper" (08:48)
18 Set Up Driver Error Compensation (03:56)
19 Audio Routing & Resampling (05:07) PREVIEW
20 Re-Recording Audio & MIDI Effects (06:52)
21 Re-Recording Device Chains (04:52)
22 Using External Audio Equipment (04:07)
23 The Hidden World of Side Chaining (10:37)
24 Learning How to Listen (08:46)
25 EQ 8 & Spectrum (07:11)
26 Using & Over Using Compression (05:40)
27 Multi-Band Compression (05:50)
[свернуть]
Example files : not provided
Video Format : MP4
Video : AVC, 1280×720, 16: 9, 30.000 fps, ~ 145 Kbps
Audio : AAC, 44.1 KHz, 96.0 Kbps, 2 channels