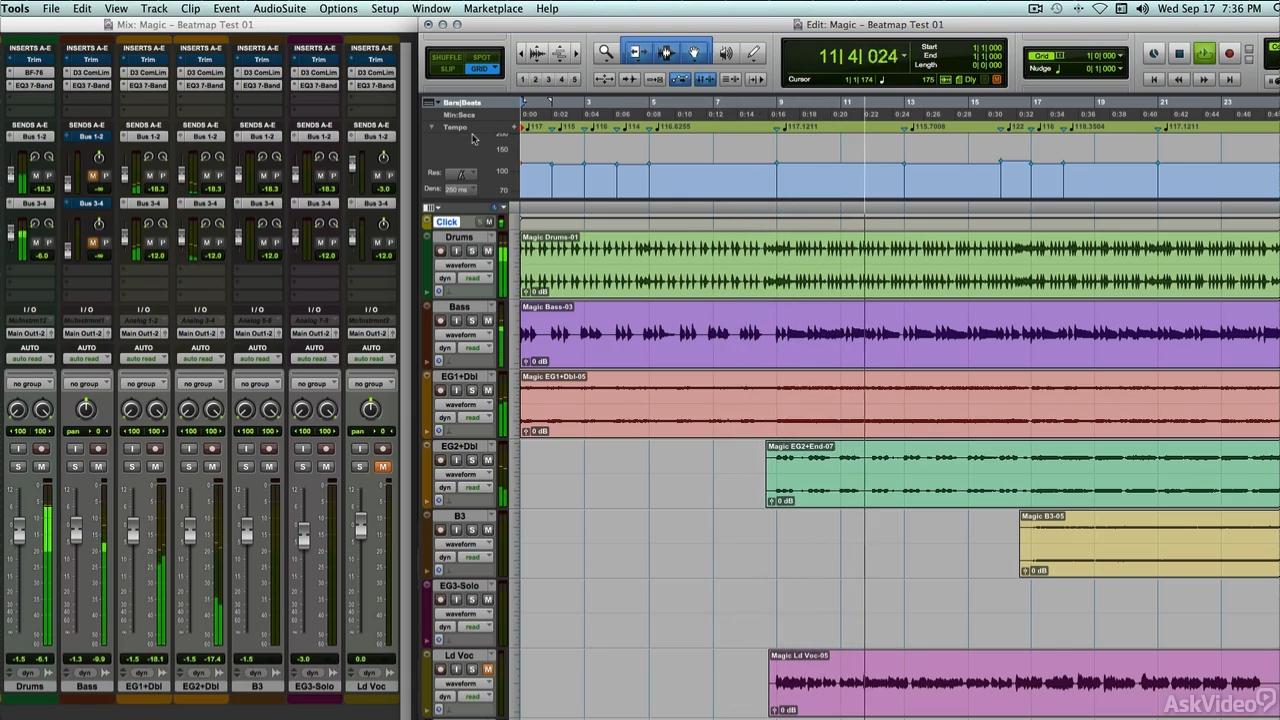 Year of release : 2014
Manufacturer : Ask Video
Manufacturer Website : www.askvideo.com/course/audio-concepts-201-advanced-audio-editing
Posted by : Joe Albano
Duration : 02:25:32
Type of handing out material : Video Tutorial
Language : English

Description : Audio guru Joe Albano is back with Advanced Audio Editing in our very popular Audio Concepts series. No matter what DAW you use, if you watch this course, you can really improve your audio editing skills!
Audio Concepts series. No matter what you use, watch your audio editing chops!
Joe Albano for each installment in the Audio Concepts series. In this course, Joe starts off explaining a bit. This method is important. But once that's all covered, things turn digital in a giga-hurry!
It is a great idea to make your audio education. It doesn't matter what you use.
You learn Beat Mapping, Time and Pitch transformations, Time-Shifting techniques and Pitch Editing. From there it is a lot of amazing tutorials on Audio Repair and Forensics.
Soon joe Albano If you're listening to the audio conepts series!
Content
01 Advanced Digital Audio Editing (05:32)
02 The Evolution of Audio Editing (05:07)
03 MIDI-Style Editing for Digital Audio (07:58)
04 Introduction to Beat Mapping (03:48)
05 Pro Tools Beat Mapping Basics (05:10)
06 Mapping Rubato Recordings (04:09)
07 Logic Beat Mapping: "Adjust Tempo" Method (03:50)
08 Beat Mapping Track & Tap Tempo (07:12)
09 Introduction to Time & Pitch Editing (04:51)
10 Common Features (06:57)
11 Pro Tools' Elastic Audio Basics (05:55)
12 Elastic Audio in Use (07:59)
13 Warp Editing (04:51)
14 Logic's Flex TIme: Algorithms (07:08)
15 Flex Edit in Use (05:04)
16 Introduction to Pitch Editing (05:39)
17 Auto-Tune & Pro Tools' Elastic Pitch (06:32)
18 Pitch Editing Basics & Logic's Flex Pitch (06:19)
19 Creative Applications: Making Harmonies (04:00)
20 Melodyne DNA: Polyphonic Pitch Shifting (06:42)
21 Introduction to Sound Replacement (02:14)
22 Audio-to-MIDI Applications (04:43)
23 Drum Replacement: Drumagog (05:56)
24 Introduction to Audio Repair (03:09)
25 Repairing Distorted Audio with Declip (03:50)
26 Removing Excess Ambience with Dereverb (03:58)
27 Spectral Repair & Deconstruction (04:49)
28 Future Tech & Wrap-up (01:55)
Sample files : none
Video Format : MP4
Video : AVC, 1280×720, 16: 9, 30,000 frames / second, ~ 846 Kbps
Audio : AAC, 44.1 kHz, 96.0 Kbps, 2 channels