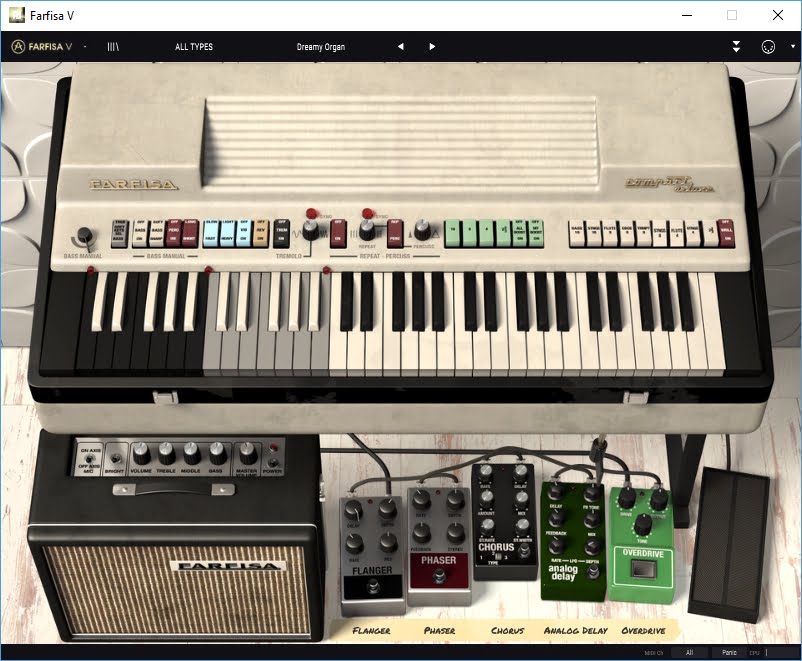 Year / Release Date : 05.2019
Version : 1.4.1.2810
Developer : Arturia
Developer website : Arturia
Format : STANDALONE, VSTi, VSTi3, AAX
Digit capacity : 64bit
Tabletka : cured
System requirements : Win 7+ (64bit) PC: 4 GB RAM; 2.5 GHz 10.10+: 4 GB RAM; 2.5 GHz CPU.
OpenGL 2.0 compatible GPU
Description : This virtual instrument is an almost exact replica of the electronic organ of Farfisa Compact Deluxe, which appeared on the music market in the mid-60s of the last century. Unlike electromechanical organs, this instrument was quite compact, and therefore was convenient for stage and touring use. Some elements from the original Compact Duo organ have been added to the digital model.
The bottom two octaves of the keyboard have an inverse color and can be allocated in a separate manual to reproduce bass sounds. Under the bass, you can select both one and two extreme octaves, leaving the upper manual, respectively, four or three octaves. Both the bass and regular parts have independent keyboard percussion control. The bass register has its own settings for the "sharpness" and duration of sounds, as well as volume control.
Additive sound generation of the upper manual (or the entire keyboard, if you do not select the bass section) occurs by connecting registers, for which the panel has groups of white two-position switches. They control not only the pitch, but also the built-in filters. For example, the "8 oboe" register differs in timbre from the "8 flute" register. Nearby is a group of green switches, with which you can arrange an alternative sound formation (the white section sounds are turned off). In this mode, in particular, the skip filters are differently configured, and the timbres are somewhat different.
Tremolo and vibrato effects as well as reverb can be used to enrich the tone.
In the model Farfisa V added some additional features that were not in the prototypes. Some of them are available on a separate, hidden control panel, which is hidden under the cover. To "raise" it, you need to click the button with a double arrow in the upper right corner of the working window (Fig. 34). This panel provides access to fine-tuning the height of each note. The tool has 12 independent master oscillators with dividers, which allows you to freely experiment with its system.
New in version:
Improvements
Playlist edition improvements
Playlist preset naming improvements
Favorite presets management improvements
Preset naming improvements
Preset search improvements
Bug fixes
Playlists now visible after recalling a project
No more crash when browsing presets
No more crashes when naming preset
Favorite presets now shuffle is enabled
Links to FAQ now available
Playlists are now visible after uninstalling / reinstalling an instrument