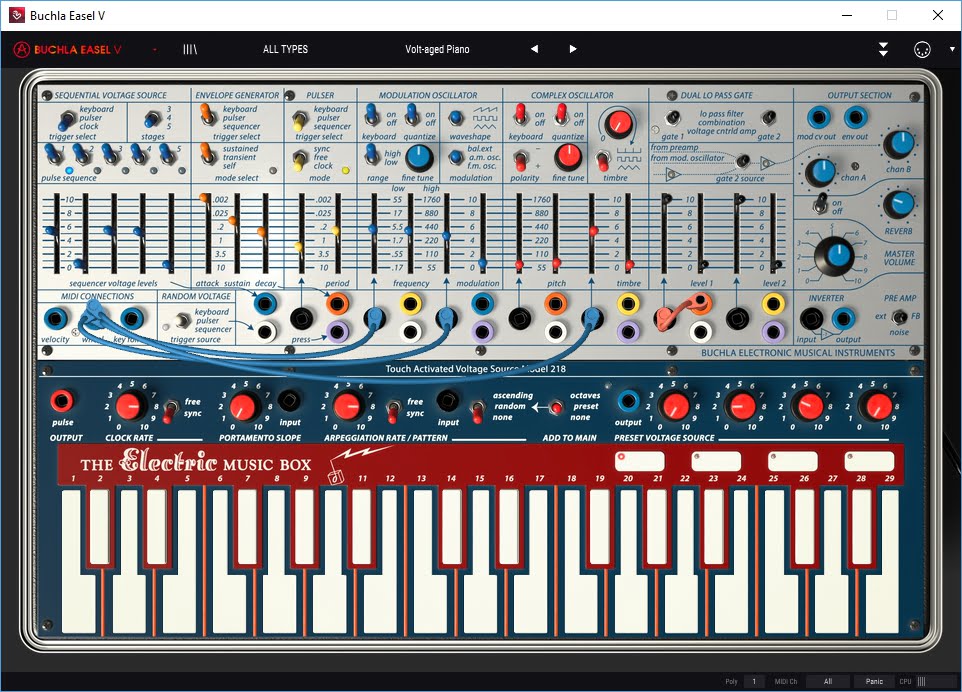 Year / Release Date : 05.2019
Version : 1.4.1.2810
Developer : Arturia
Developer website : Arturia
Format : STANDALONE, VSTi, VSTi3, AAX
Digit capacity : 32bit, 64bit
Tabletka : cured
System requirements : Win 7+ (64bit) PC: 4 GB RAM; 2.5 GHz 10.10+: 4 GB RAM; 2.5 GHz CPU.
OpenGL 2.0 compatible GPU
Description : Buchla Easel V is the reincarnation of a symbolic tool that helped determine the experimental modular synthesis of the West Coast direction in the early 1970s. Our enhancements give the instrument significant advanced features for sound design and avant-garde music.
One look at Buchla Easel V, and you will realize that it is a beast. In fact, it will make you think about the sound differently from the very beginning – soundscapes that you can design with it will be unique. We carefully recreated the 1973 Buchla down to the component level. As you would expect from our other V-series instruments, we went an extra mile further by developing an expanded set of features, including polyphony, innovative new modulation / control sources, a sequencer, effects, and more. We applied our award-winning TAE ™ simulation technology from front panel to resistors to transfer everything with incredible realism.
Integrated oscillator design, AM and FM synthesis, a unique combination of gate / filter and many ways to modulate and synchronize almost every parameter. Create and perform soundscapes that flicker, pulsate and evolve. Nearly 300 presets will help you start with timbres, from obsessively beautiful sounds and ending with a ringing in your ears.
Regardless of whether you want to experiment with simple sounds or build complex evolving passages, Buchla Easel V is a constant source of inspiration for sound adventurers. Create sounds that no one has ever heard before.
In addition to the high-quality reproduction of the classics, we filled the Buchla Easel V with even greater vintage quality. Thanks to our extensions to the original Buchla design, you will now have an even more intuitive programming experience combined with additional sound parameters.
* Please note that while our extreme component-level modeling on the Buchla Easel V provides excellent analog sound, every polyphony voice requires significant computational power.
Buchla Easel V offers new expressive possibilities that go beyond your wildest aspirations. We have significantly expanded the functionality of the original, while respecting the unique personality and design philosophy of the tool. New additions to the Buchla Easel V give you the opportunity to create and perform complex, exotic sounds that were simply impossible until now.
New in version:
Improvements
Playlist edition improvements
Playlist preset naming improvements
Favorite presets management improvements
Preset naming improvements
Preset search improvements
Bug fixes
Playlists now visible after recalling a project
No more crash when browsing presets
No more crashes when naming preset
Favorite presets now shuffle is enabled
Links to FAQ now available
Playlists are now visible after uninstalling / reinstalling an instrument