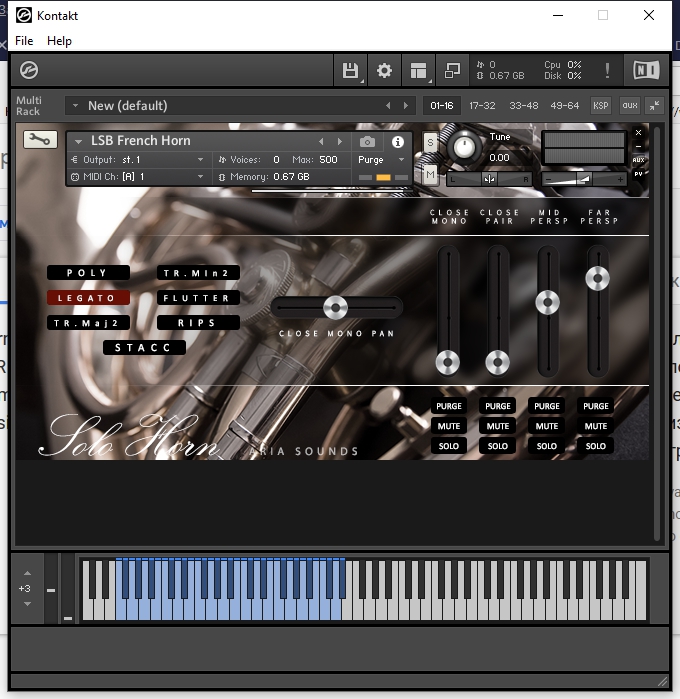 Publisher : Aria Sounds
Website : ariasounds
Format : KONTAKT 4+
Quality : 24 bit 48 kHz stereo
Description : After a long period of silence, Aria Sounds is very pleased to present LSB Solo French Horn for Kontakt 4 and above. This tool is another step forward Aria, with many features and careful sampling for a powerful and convincing sound.
The tool contains legato, sampled on three dynamic layers, with the possibility of crossfading via MIDI CC1 (mod wheel), as well as many other articulations …
Solo French Horn comes with a mixer that allows you to mix FOUR microphone positions; close mono, spot pair, stage (mid) and room (far) to create anything from a close, dry sound to a massive, distant, cinematic sound landscape.
Articulations

:
– Polyphonic – play chords and other polyphonic passages (three dynamic layers)
– Legato – True legato (three dynamic layers)
– Trills Major 2
– Trills Minor 2
– Staccato (three dynamic layers with a 7RR repetitions)
– Flutter tongue
– Rips

The post Aria Sounds – LSB: Solo French Horn (KONTAKT) appeared first on Audioplugin.net.