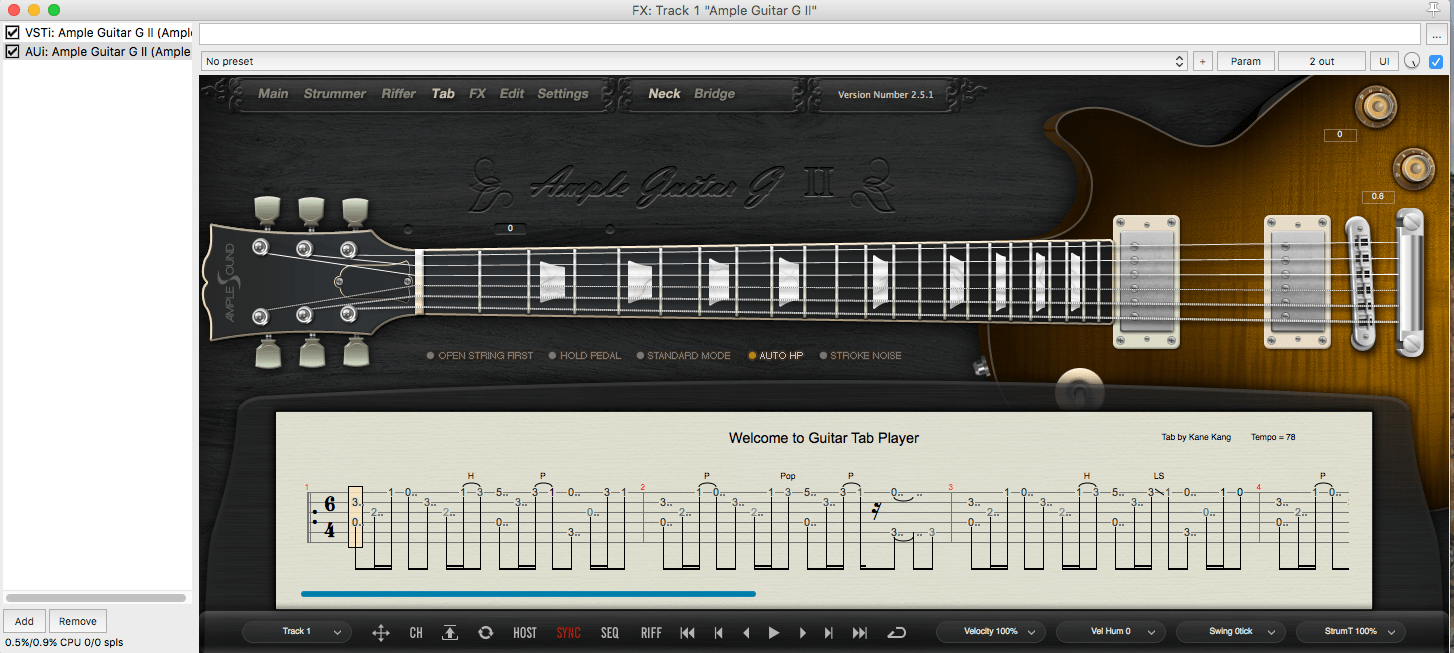 Year of manufacture : 2017
Version : 2.5.1
Developer : Ample Sound
Developer's website : Ample Sound
Platform : iNTEL
Format : STANDALONE, VSTi, RTAS, AAX
Language : English
Tablet : Keigen (requires a Windows emulator)
System requirements : Mac OS X 10.7 or higher, Intel-based Mac with 2 GB RAM
Description : Ample Guitar G is a virtual electric guitar with guitar sound Gibson Les Paul Custom R8 Guitar (5000 samples, 4.26 GB, 22 fret). All samples are recorded with natural sustain (up to 28 seconds) and 24 bit / 44.1 kHz resolution. The tool allows you to simulate common ways of performing (slides, muffles, artificial and natural flashers, suspenders, Hammer On & Pull Off, legato, staccato and so on).
In addition, there is a large set of techniques for automatic accompaniment (each chord can be beaten in 27 ways), humanization functions and double-track. There is an intelligent MIDI control system that allows you to create realistic guitar parts even for people who have a vague idea of ​​how to play this instrument at all.
Activate step-by-step :
1. Install the plug-in.
2. Start it and click on the red inscription " You need an internet connection for trial ":
3. In the Activation Manager window that appears, click on the " Activate " button.
4. Then click on the " Offline " tab.
Copy the " Challenge code "
5. Start keygen, select the product to activate from the list (be careful !!!), insert the copied Challenge code in the " Challenge code " field (1) and click on the " GENERATE " (2) button. The key code (3) will appear in the " KeyCode " field:
6. In keygen, copy " UserID " (1) and " KeyCode " (2) and paste them into the appropriate fields (with the same names) in the plug-in activation manager and click on the " Activate " button:
Activation was successful . You need to restart the plugin.

Sponsored Links