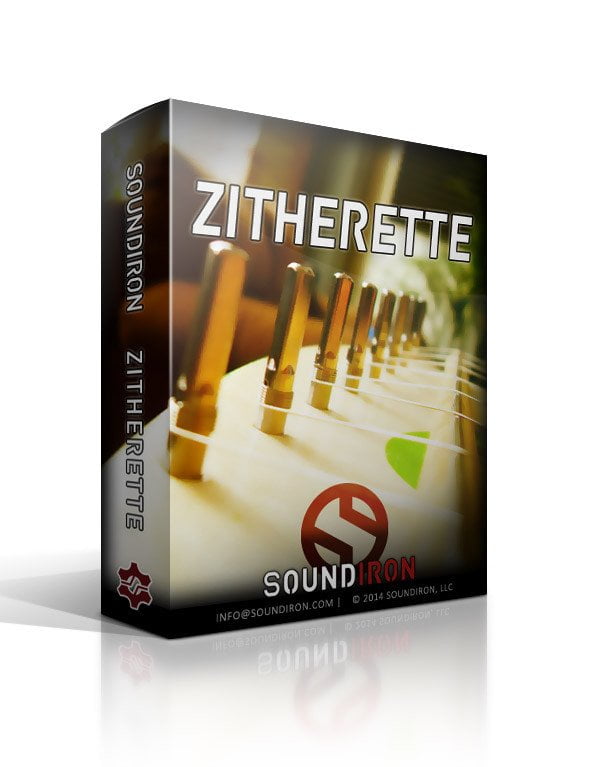 This enchanting little instrument is a simple 8-string fretless zither, roughly 12 x 20 inches in size. Zithers are a broad family of hollow-bodied string instruments common throughout all of Europe and Asia. Variants range from the dulcimer to the Koto, with countless other flavors unique to each region and culture. Common to each of them is the arrangement of multiple strings over a hollow body. The oldest known variant of the zither family dates back to 4th century B.C China, while new additions continue to spring up to this day. Our particular hand-held zither has steel strings, with a smooth, dark tone, with a clean biting attack and long, natural decay. At it's softest, it has a pristine, almost harp-like sound, while the hardest notes bend deeply at the attack, with a pronounced twang.
We chose a pluck articulation and captured it very close and dry, in wide stereo. We sampled our little zither extensively, as we do with all of our instruments. Each string has an average of 8 velocity layers, with 4 round-robin variations per layer. We also captured palm mute release triggers, with 2 velocities and 4 round robins per note. We created a variety of presets, to allow maximum flexibility and intuitive playability. We also created an array of custom sound-designed fx patches, extending the creative possibilities even further. Lastly, we've created a "wet" version of most of the core patches with a convolution reverb effect preloaded. These "wet" patches feature select custom impulse responses recorded from some of our favorite locations.
Product Specs
627 MB installed (339 MB Download)
319 Samples (standard pcm wav)
25 .nki files (unlocked format)
24 bit / 44.1kHz uncompressed source PCM wav samples
Unlocked presets and wav samples allow full user customization
Includes a bonus collection of ambiences, special fx presets, and a few of our favorite custom convolution reverb impulses.
System Requirements
The full retail version of Native Instruments Kontakt version 3.5 (or later) is required to use this library. The free Kontakt "Player" and "Add Library" import process do not support this standard open-format Kontakt library. Windows XP or higher. Mac OSX 10.6 or higher. Dual Core CPU, 2 GB System Ram, SATA or SSD hard drive recommended for this library.