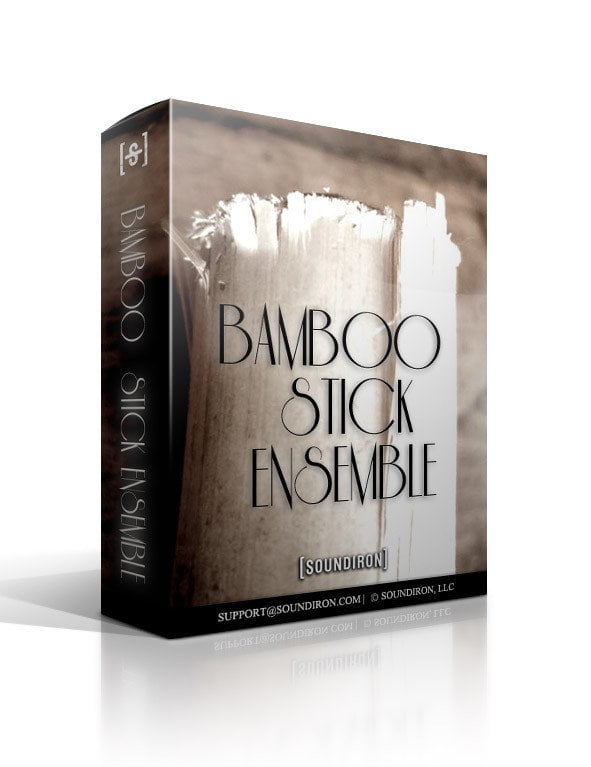 Bamboo Stick Ensemble is a classic scoring percussion library for Kontakt captures the tight, powerful clack of long, heavy raw bamboo poles, played more as a weapon than as an instrument. We struck, clashed, bent, dragged, scraped, shattered, and pounded them into splinters, with solo and ensemble articulations. Beyond just pure epic war percussion, the Bamboo Stick ensemble features haunting drones, screeches, roars and nightmarish horn-like wails that we produced by brutally grinding the resonant bamboo against stone.
Our Bamboo Stick Ensemble has been featured in a number of major motion picture soundtracks such as Avatar and Tron Legacy. It serves as a powerful display of just how far you can take a simple non-traditional object like a bamboo pole. To get just the right mix of power and edge, we took a number of high quality 8-foot x 2-inch diameter bamboo poles and sampled them meticulously in their natural state, as mighty epic percussion instruments. When striking and scraping a stone floor with them, the result is an interesting blend of aggressive slaps, clacks, screeches, drones and even howls. We recorded this library in a favorite lush tile and stone recording hall, with the specific goal of achieving the most massive and powerful epic percussion hall sound we could get. True epic percussion can only be done in a natural hall. It simply can't be faked.
The percussive impacts were produced by striking the bamboo poles against one another, often to the point of shattering. We recorded 10 round robin variations per velocity layer, with an average of 5 layers per note. The swooshes have a very rounded, whistling quality to them. They become tighter and more percussive as you move up their key range. The sustaining sounds were produced by dragging the end of the bamboo shafts against 6" square tile flooring in a large bright hall. The shafts were held almost vertically, with alternating soft and hard pressure as they were being dragged.
Wet recording, Tile and Glass Hall
All major type of ensemble hits/clacks/swooshes
Each Multisampled strike articulation has up to 8 velocities & 10 round-robin pr. velocity
Stabs and FX, both high and low tones
Long single-shot sustains and tremolos, both high and low tones
Looping brassy sustains
Looping warm pad sustains
The included Convolution Reverb effect features 115 select custom impulse responses recorded from some of our favorite locations. Among those are also fx impulses which are more special effect than reverb.