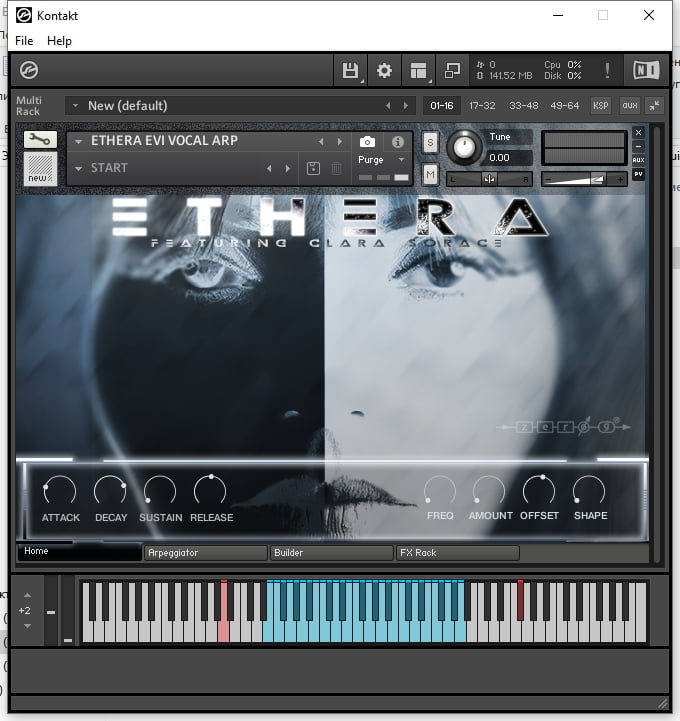 Publisher : Zero-G
Website : zero-g
Format : KONTAKT 5.8.1+
Quality : 24 bit 48 kHz stereo / mono
Description : ETHERA EVI was created to meet the needs of the most demanding modern composers and sound engineers and invites you to the wonderful world of amazing vocals, synthesizers, arpeggios, textures, bass, horns, drums, acoustic instruments and ambient sounds for your cinematic and electronic musical creations. ETHERA EVI is a complete all-in-one tool for creating soundtracks, video games, multimedia and sound design.
It consists of four main tools:
– Ethera EVI Vocal True Legato Instrument
– Ethera EVI Vocal Phrases Instrument
– Ethera EVI Vocal Builder
– Ethera EVI Synth
Ethera EVI Vocal Builder is a collection of samples programmed as an intelligent component that allows the composer to play vocal sequences or chords with different vocal articulations in real time.
Ethera EVI Synth is a powerful synthesizer and an ideal tool for cinematic sound, sound design, cyber punk music or any electronic musical production. The original samples were created by sampling some of the best hardware synthesizers, various recordings and the entire spectrum of organic sounds, acoustic instruments and human voices. Ethera EVI SYNTH contains over 850 presets, already created for you and ready to use, including 100 Multis, as well as the multi-sampled 1928 Acoustic FELT Piano.
New in Version:
– True Legato 2.0: New "emotive Uh" & "emotive Ah" Articulations With Multisample Layers By Midi Velocity
– True Legato 2.0: Natural Release, No Loop, Natural Vibrato.
– True Legato 2.0: 4 Articulations With Key Switches
– New Vocal Phrases: Over 600mb Of New Samples – (In Total Over 1.8 Gb Of Vocal Phrases)
– Vocal Arp: New Samples & Presets (Whispers; Short Sounds; Ah; Oh; Etc Etc)
– EVI Synth: New Synth 2.0 With Over 5 Gb Of New Wavetable Sounds (Synth, Percussions, Textures, Etc)
– EVI Synth Snapshots: Now There Are Preset Snapshots
– EVI Synth: All 1.5 Presets Have Been Converted Into Snapshot Preset Format (There Are 3 Synths: Synth 1.5, Synth 2.0 A, Synth 2.0 B)
– EVI Synth: 8 Lfos (Filters; Fx, Speed, Pan, Grain / formant)
– New Scripted Legato: Mmm, Uh, Ih
Characteristics:
– Over 18GB of samples
– New powerful EVI true legato with up to 4 velocity articulations and sustains
– New vocal builder instrument that allows you to create your own unique vocal phrases
– Over 1000 samples of inspiring vocal phrases synced to the bmp and "legato mode"
– Over 13GB of samples from the best hardware synths and organic sounds
– Over 1.0GB of electronic drum loops
– An exclusive acoustic vintage 1928 piano felt (2 mic: stereo – mono)
– Critically acclaimed voice of Clara Sorace
– New convolution reverb
– Wavetable synth with sample grain control
– Glide and unison mode for the EVI synth
– Arpeggiator with 6x play mode and pitch sequencer
– 5 LFO & filters – free or synced to the host clock
– GUI with easy to use controls and fully automated midi learn controllers
– FX rack with midi learn
– Two "off-set" sample start controls in vocal phrases and legato mode
– Waveform display
– Roli seaboard support (synth legato glide & mono aftertouch)
– Over 800 presets including multi instruments