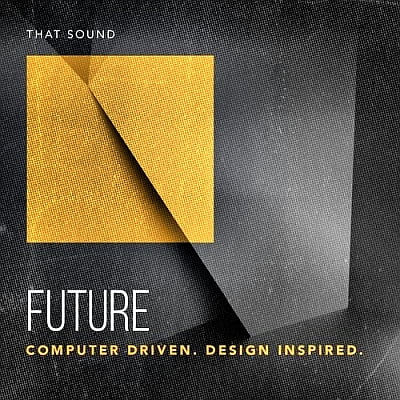 Publisher : That Sound
Website : iwantThatsound
Format : WAV, ABLETON, REASON, EXS24, MACHiNE 1/2, BATTERY 4
Quality : 24 bit 44.1 kHz stereo
Description : Welcome to the sounds of tomorrow. Carefully processed by modern technology and design, the FUTURE library is not like anything else. Samples and loops of the library defy genres and are ready to promote your tracks to the future of music. Dirty and fat bass drums and dense, vigorous snares, obtained from a hybrid of samples of classical drum machines with acoustic drum tones. What is your genre – hip-hop, pop, trap, dubstep, house?
No matter what you do, FUTURE will help you break away from those who have used 808 drum samples a lot. Inside you will also find a well-organized heap of loops created with the help of classical and modern drum machines. More than 400 unique single samples and more than 200 separate loops – all of them were recorded through preamplifiers API and NEVE with levels designed for maximum color. If it's time for something else, postpone your favorite 808 sample packet and try this library.
SAMPLES
454 individual one shot samples, 107 kicks (aggressive, big ugly, dirty verby, tape saturation, tight, wide), 81 snares (flame, aggressive, future, tight), 40 claps, 80 hats and cymbals, 27 toms, 134 whips , reverses, 808 pitched kicks and extra fx
LOOPS
301 individual loops, tempos ranging from 80 – 154 bpms in a variety of grooves and feels
(Expansion Vol. 1 contains 60 new loops with individual stems)
PRESETS
Ableton, Reason, EXS24, Battery 4, and Maschine 2.

.yuzo_related_post img{width:149.5px !important; height:104px !important;}
.yuzo_related_post .relatedthumb{line-height:16px;background: !important;color:!important;}
.yuzo_related_post .relatedthumb:hover{background:#fcfcf4 !important; -webkit-transition: background 0.2s linear; -moz-transition: background 0.2s linear; -o-transition: background 0.2s linear; transition: background 0.2s linear;;color:!important;}
.yuzo_related_post .relatedthumb a{color:#303030!important;}
.yuzo_related_post .relatedthumb a:hover{ color:#8023dd}!important;}
.yuzo_related_post .relatedthumb:hover a{ color:#8023dd!important;}
.yuzo_related_post .relatedthumb:hover .yuzo__text–title{ color:#8023dd!important;}
.yuzo_related_post .yuzo_text, .yuzo_related_post .yuzo_views_post {color:!important;}
.yuzo_related_post .relatedthumb:hover .yuzo_text, .yuzo_related_post:hover .yuzo_views_post {color:!important;}
.yuzo_related_post .relatedthumb{ margin: 0px 0px 0px 0px; padding: 5px 5px 5px 5px; }
.yuzo_related_post .relatedthumb{
display:block!important;
-webkit-transition:-webkit-transform 0.3s ease-out!important;
-moz-transition:-moz-transform 0.3s ease-out!important;
-o-transition:-o-transform 0.3s ease-out!important;
-ms-transition:-ms-transform 0.3s ease-out!important;
transition:transform 0.3s ease-out!important;
}
.yuzo_related_post .relatedthumb:hover{
-moz-transform: scale(1.1);
-webkit-transform: scale(1.1);
-o-transform: scale(1.1);
-ms-transform: scale(1.1);
transform: scale(1.1)
}
.yuzo_related_post{
overflow:inherit!important;
}
jQuery(document).ready(function( $ ){
jQuery('.yuzo_related_post .yuzo_wraps').equalizer({ columns : '> div' });
});