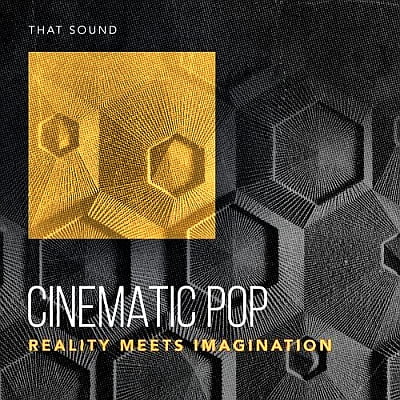 Publisher : That Sound
Website : iwantThatsound
Format : WAV, ABLETON, REASON, EXS24, MACHiNE 1 2, BATTERY 4
Quality : 24 bit 44.1 kHz stereo
Description : Welcome to Cinematic Pop – a place where reality meets imagination. Where real and digital worlds collide, when acoustic and analog drums float in lush reverberations. Sometimes the sounds of the acoustic drum do not convey the depth, atmosphere and sense of scale in the track that you are looking for. It will be easy with the library that you need – Cinematic Pop.
This library is ideal for modern pop music, EDM and rock production and contains an expressive set of bass drum, snares, claps, toms, hats, snaps and effects – processed and ready to add to your tracks a massive kinematic experience. These drums contain the entire spectrum of sound from small and dry to massive and voluminous. This is not a comprehensive mega-collection of drum sounds. Rather, it is a punchy, carefully crafted library, ready to hold you in the forefront of creating modern music. Cinematic Pop comes with single samples, as well as with sampler presets.

.yuzo_related_post img{width:149.5px !important; height:104px !important;}
.yuzo_related_post .relatedthumb{line-height:16px;background: !important;color:!important;}
.yuzo_related_post .relatedthumb:hover{background:#fcfcf4 !important; -webkit-transition: background 0.2s linear; -moz-transition: background 0.2s linear; -o-transition: background 0.2s linear; transition: background 0.2s linear;;color:!important;}
.yuzo_related_post .relatedthumb a{color:#303030!important;}
.yuzo_related_post .relatedthumb a:hover{ color:#8023dd}!important;}
.yuzo_related_post .relatedthumb:hover a{ color:#8023dd!important;}
.yuzo_related_post .relatedthumb:hover .yuzo__text–title{ color:#8023dd!important;}
.yuzo_related_post .yuzo_text, .yuzo_related_post .yuzo_views_post {color:!important;}
.yuzo_related_post .relatedthumb:hover .yuzo_text, .yuzo_related_post:hover .yuzo_views_post {color:!important;}
.yuzo_related_post .relatedthumb{ margin: 0px 0px 0px 0px; padding: 5px 5px 5px 5px; }
.yuzo_related_post .relatedthumb{
display:block!important;
-webkit-transition:-webkit-transform 0.3s ease-out!important;
-moz-transition:-moz-transform 0.3s ease-out!important;
-o-transition:-o-transform 0.3s ease-out!important;
-ms-transition:-ms-transform 0.3s ease-out!important;
transition:transform 0.3s ease-out!important;
}
.yuzo_related_post .relatedthumb:hover{
-moz-transform: scale(1.1);
-webkit-transform: scale(1.1);
-o-transform: scale(1.1);
-ms-transform: scale(1.1);
transform: scale(1.1)
}
.yuzo_related_post{
overflow:inherit!important;
}
jQuery(document).ready(function( $ ){
jQuery('.yuzo_related_post .yuzo_wraps').equalizer({ columns : '> div' });
});