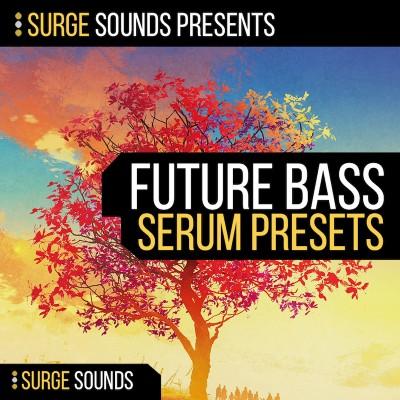 Publisher: Surge Sounds
Website: www.producerloops.com/Download-Surge-Sounds-Surge-Sounds-Future-Bass-For-Serum.html
Format: WAV, MIDI, FXP (Serum), NMSV (Massive)
Quality: 24 bit 44.1 kHz stereo
---
Description: 'Surge Sounds – Future Bass For Serum' is a groundbreaking collection of Serum presets packed with dreamy and futuristic sounds.
This cutting edge collection is packed with 370 modern presets and 93 MIDI files from the demo that will draw out mind blowing and unique ideas. The goal is to support you to push the creative boundaries in the Future Bass scene. Also added are a ton of inspiring bonus samples and LFO sequences.
Each sound was inspired by phenomenal artists like Flume, San Holo, Wave Racer, MYRNE, Marshmello, Pegboard Nerds, The Chainsmokers, ILLENIUM and many other innovative Future Bass artists.
This collection contains 300 top notch presets for Xfer Serum that you just cannot wait to start producing with. As a bonus also added are 70 innovative NI Massive presets. Bonus items also include 216 expertly designed drum samples.
At your fingertips there are four macros on every Serum preset. This gives you ultimate creative control and innovation to tweak and match them to your artistic sound.
32 infectious LFO sequences were designed so now all you need is to play your favorite chords and all the rhythms are already programmed. This is brand new and composing with these has never been easier. Premier Soundbank are the first to design presets for Serum in this way.
Also included is a bonus pack, 'Future Bass Sequences', which includes 35 hand-crafted LFO sequences plus a PDF describing how you can use them in Serum.
Grab this pack and start producing mind blowing tunes today.
Please Note:
Xfer Serum 1.113 and NI Massive 1.3 or higher is required.
Content :
• 813 Total Files
• 302 Total Xfer Serum Presets
• 66 Synths (& 2 Bonus Presets)
• 83 Leads
• 46 Basses
• 73 Plucks
• 32 Sequences
• 93 Total Melodic and Drum MIDI Files & 45 WAV Files
• Bonus Pack 'Future Bass Sequences'
• 35 Handcrafted LFO Sequences & Setup Guide PDF
70 Bonus NI Massive Presets:
• 21 Leads
• 18 Plucks
• 19 Synths
• 12 Basses
216 Bonus Drum Samples:
• 73 Snares
• 32 Closed Hats
• 57 Claps
• 54 Kicks
---