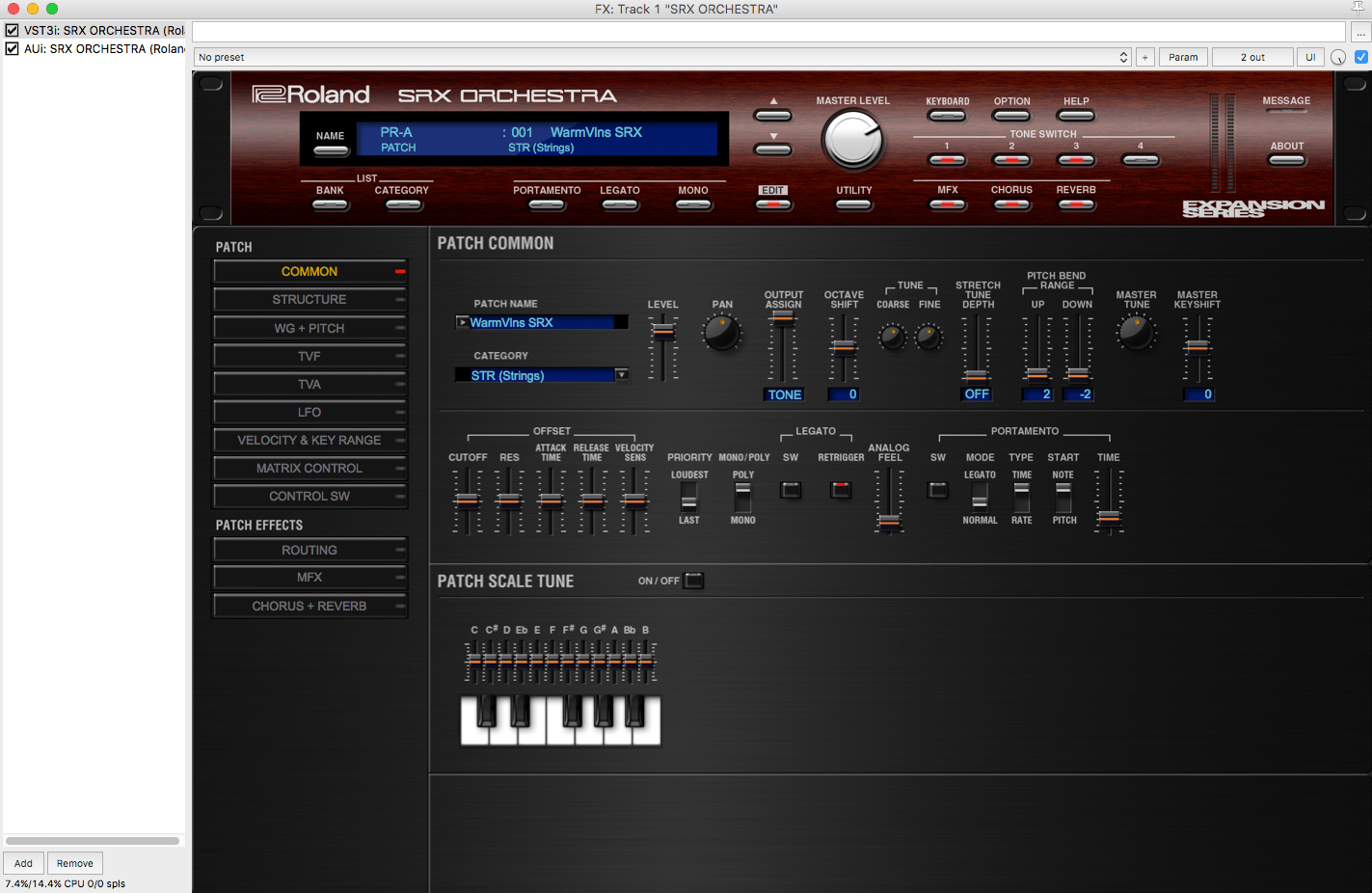 Year of release : 2018
Version : 08.2018
Developer : Roland
Developer Website : RolandCloud
Platform : iNTEL
Format : VSTi3, AUi
Interface language : English
Tablet : Program treated (Put and work)
System requirements : System Mac OS X 10.8.5 or later.
Audio Units (AU) version: V2 Audio Units compatible.
CPUIntel (R) Core (TM) 2 Duo or better, RAM4 GB or more
Description : An updated set of cult synthesizers in software :
Roland D-50 v1.0.6 – Based on Roland's DCB technology, the Roland D-50 brings the ultimate 80s synthetic sound to your tracks in new ways! It is the basis of classic tracks in a wide range of genres, including Synth Pop, New Wave, New Jack and R & B, as well as countless movie soundtracks. Thanks to the new Roland D-50 DCB Software Synthesizer synthesizer, Roland Cloud users can have the iconic sound of LA in a powerful plug-in that perfectly recreates this legendary synthesizer to the most subtle nuances!
Roland Juno-106 v1.04 – Perhaps the most popular vintage synthesizer for EDM producers and electronic musicians around the world, Roland JUNO-106 has become legendary thanks to its unique combination of incredible Roland analog sound, a simple and effective interface. The Roland JUNO-106 synthesizer is a complete re-creation at the component level of the original 6-voice instrument, up to the classic integrated circuit
Roland Jupiter 8 v1.06 – Created in honor of the king of synthesizers Roland JUPITER-8. Roland JUPITER-8 is capable of creating some of the richest, most powerful tones and textures imaginable. Thanks to the Roland simulator that controls the game ACB (Analog Circuit Behavior), the software synthesizer is the perfect re-creation of a legend capable of the same incredibly smooth pads, stunning bass and emotional leads.
Roland JV-1080 v1.05 – During the 1990s, Roland digital synthesizers based on sampled PCM wave signals formed the basis for a variety of music — R & B, pop, hip hop, and soundtracks for movies. Some of these sounds, originally intended to imitate acoustic instruments, became so iconic that they became a permanent part of the musical sound palette. Some say that this is the most recorded sound module in history, and lately artists have been using these sounds again and again in new and modern ways. This final sound of the Roland era of the 90s – now in a modern plugin for your DAW.
Roland PROMARS v1.09 – Promars Plug-Out virtual instrument announced for the first time presented at the NAMM 2015 winter exhibition simulating the rare single-part analog synthesizer Promars Compuphonic (1997). Developed first as the "younger brother" of JUPITER-4, the Roland PROMARS Compuphonic Synthesizer has the stability and flexibility of microprocessor control with amazing analog sound. As a result, it became a synthesizer that offered an incredible punch (2 generators per voice and a great sound filter, 10 pre-installed and 10 user patches – one of the first with memory!). Although today we take programming for granted, the inspiring sound of PROMARS could only restore the power of ACB, and now it is available as an incredible Roland software synthesizer!
Roland SH-2 v1.11 (S) – A virtual instrument imitating the monophonic SH2 analog synthesizer. The new SH-2 uses analog circuit technology, reliably recreates the warm, rich sound of the original, which can only come from Roland. The instrument is capable of producing extremely greasy and warm analog tones. To this day, many synthesizer fans feel that it produces the most amazing bass sounds of all time.
Roland SH-101 v1.1.2 (S) – The SH-101 Synthesizer is a complete re-creation of the legendary SH-101 – right down to the fine details that make it one of the most popular classical synthesizers of all time. Based on the ACB technology, it recreates not only the sounds of the SH-101, but truly models the behavior of analog circuitry – all the nuances of authentic sound from the creator of the original synthesizer.
Roland SOUND Canvas VA v1.1.2 – First introduced in 1991, the Roland Sound Canvas series has long become the standard for GS sound modules. With Sound Canvas VA, you can now use classic sounds in your program as a VSTi plug-in. It includes 1600 high-quality sounds, plus 64 different insert effects, major effects such as reverb and equalizer, as well as extensive sound editing capabilities.
Roland SRX Keyboards v1.0.1 – SRX Keyboards virtual tool with samples from the SRX07 Ultimate Keys board
Roland SRX Orchestra v1.0.5 – Roland 's legendary SRX Orchestra, the first software adaptation, brings your DAW some of the most favorite and recorded orchestral sounds in history. The SRX Orchestra contains hundreds of fresh, inspiring sounds for composers, accompanying films or any situation where realistic orchestral sounds or vocals are needed. Flutes, clarinets, choruses and even powerful percussion stand out noticeably with patches that provide a multitude of orchestral voices with a single keystroke.
Roland System-1 v1.10 (S) – Get the power of sound and versatility of the popular SYSTEM-1 synthesizer in a virtual instrument. Like the SYSTEM-1 hardware, this software version breaks new ground with remarkable flexibility and an extensive palette of amazing sounds. He has a bold, obvious character associated with Roland synthesizers for more than four decades.
Roland SYSTEM-100 v1.0.8 (S) – A replica of the iconic semi-modular synthesizer System-100, all the features have been ported to the virtual model.
Roland TR-808 v1.0.3 – The famous drum machine touched almost all areas of modern music, pretty inheriting imprints. "808-flank" has become such an integral part of hip-hop that it is now impossible to imagine how the genre would sound today, and how far behind the musical evolution of our realities. "808-dram" in the culture DNA is the driving force behind its development and the flow of direction. "TR-808" is so omnipresent for many years that its dramas seem to be an independent language of expression. Now the sound of the "808th" is the basis of youth urban culture, in particular, trill-fonk, trap, cloud, video, and other directions.
Roland TR-808 is one of the most influential music inventions that spawned the clone machine industry and the library of samples. Almost every self-respecting producer has samples of her drummers. It's almost impossible to find a software synthesizer or drum machine that doesn't have a digitally recreated version of its sounds.
Indeed, this device should pay tribute for such an extensive contribution to music and for the impetus in the development of the musical equipment industry. It is safe to say that in our century there will still be many directions in which this tool from Roland will play one of the key roles, existing out of time, but moving tirelessly into the future.
Roland TR-909 v1.0.3 – The first official virtual version of the legendary drum machine, which accurately reproduces the sound of the original instrument. The sound signal transmission and generation schemes were reproduced using a special modeling technology Analog Circuit Behavior, which allows to achieve the most accurate and similar to analog audio equipment. For greater plausibility and interesting sound, the developers equipped each pattern and each sound with eight variations that are switched in a random order during use.

Before installing, disable the Internet !!!

Sponsored Links
[ad_2]