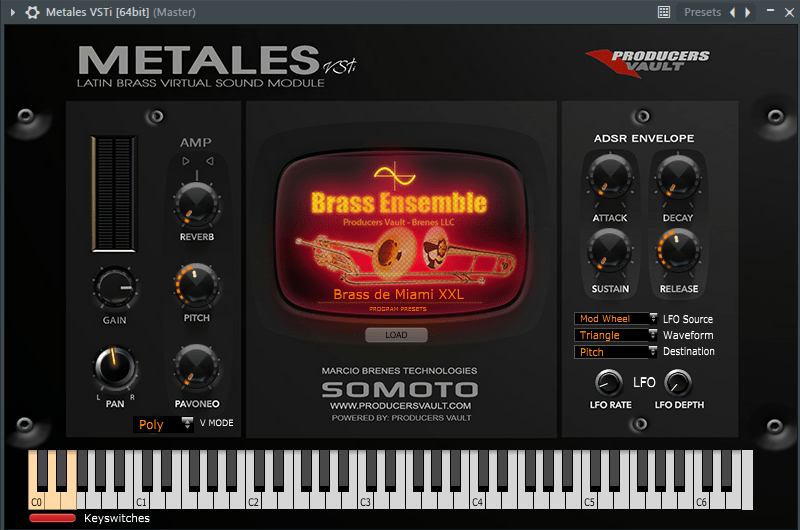 Year / Release Date : 10/26/2018
Version : 1.1
Developer : Producers Vault
Developer's site : href.li
Format : VSTi
Bit : 32bit, 64bit
Tabletka : not required
System requirements : Windows 7, 8 10 32 & 64 bit 2.63 GB MB Disk Space 2 GB Ram
Description : Are you tired of using classic brass, cinematic horns, jazz or blues horns in your Latin musical productions? Well, so we, in fact, are tired of us.
Introducing METALES VSTi (Latin Brass Virtual Sound Module)
Using our SOMOTO sampling technology.
Trombones, Trumpets, Saxophones, Flutes, Clarinet, Tuba, Horns and Sinta.
The only sampled brass library with Latin music.
We took the time, listened to our customers and molded exactly what they asked: individual horns and ensembles with all the articulations used in modern and classical Latin music, including Salsa, Cumbia, Merengue, Harangu, Guaracha, Chichero and Mexican music, everyone plays experienced groups of players who know Latin music the way it should be played. Special thanks: Marcos C. Rayo, Jose Fuentes, Arturo El Peruano, and Jaimito "El Chele" Carranza and El Maestro Sean Price.
INSTRUMENT LIST & PRESETS:
Brass de Miami XXL (Special Keyswitches with multiple articulations)
Brass falls
Brass Latino MB
Charcheta alto horn eb
Clarinete guapachoso
Flauta cubana pacheco
Flauta Tropical XXL (Special Keyswitches with multiple articulations)
Fliscorno salsero
Sax Alto Tropical XXL (Special Keyswitches with multiple articulations)
Sax baritono
Sax Latino MB
Sax soprano
Sax Tenor Tropical XXl (Special Keyswitches with multiple articulations)
Saxos mamberos
Trombon Colon XXL (Special Keyswitches with multiple articulations)
Trombon latino mb
Trombon Sonidero XXL (Special Keyswitches with multiple articulations)
Trombon Tropical XXL (Special Keyswitches with multiple articulations)
Trombones salseros
Trompeta cubana sordina
Trompeta gupachosa
Trompeta Latina MB
Trompeta Mexicana XXL (Special Keyswitches with multiple articulations)
Trompeta Tropical XXL (Special Keyswitches with multiple articulations)
Trompeta y trombon de pueblo
Trumpet salsa section
Tuba y Charcheta Mexicana
Special Synth Bonus Sounds
Syn – Brass 1 M1
Syn – Brass JP 01
Syn – Brass Juno
Syn – Brass JV
Syn – Brass Sect 90s
Syn – D50 Synth Brass
Syn – Horn Section D50
Syn – Octa Brass M1
Syn – Poly Brass
Syn – Power Brass D50
Syn – Saxofon M1
Syn – Trombone 01w
Syn – Trumpet M1