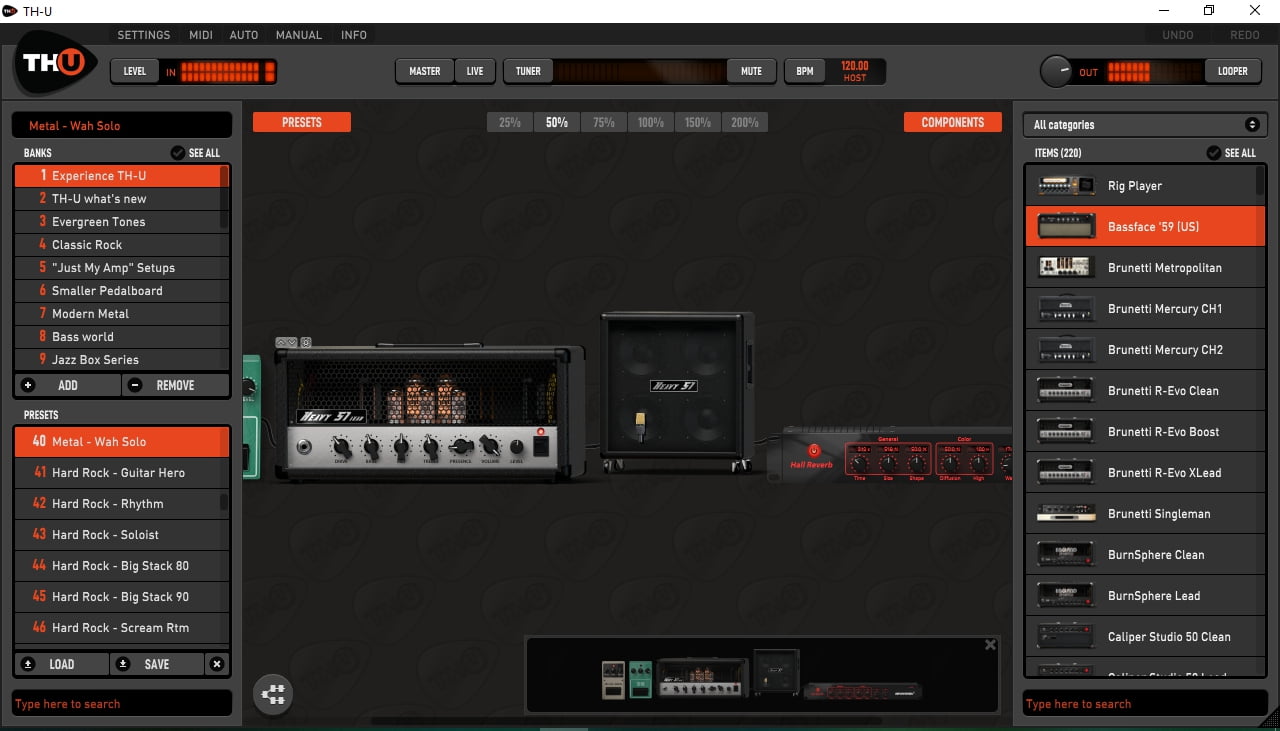 Year / Release Date : 03.2019
Version : 1.0.3
Developer : Overloud
Developer site : overloud
Format : STANDALONE, VST, VST3, AAX, AU
Digit capacity : 32bit, 64bit
Tabletka : present
System requirements : Core i3 1.4GHz with 4Gb of RAM, 1280×800 video.
Windows Vista, Windows 7, Windows 8 and Windows® 10
Description : TH-U is a colossal new version of Overloud's flagship software. The world's largest collection of 239 models and at least 1000 presets, covering all musical styles. Based on the unreleased version of the TH3 Full, TH-U has 15 new amplifiers, including the Superlead and Superbass models, Polytone and DVmark Triple 6 jazz amplifiers. It also comes with 14 new cabinets. Also new is Rig Player, which reproduces models taken from real R2M technologies (Rig To Model). Amp Tweaks allows you to modify amplifiers, setting up advanced and powerful lamps. In addition, the delay with Shimmer reverberation was added, and the Cabinet IR module was also improved and redesigned.
All modules and IR are included .
Features :
92 models of guitar and bass amps.
52 models of cabinets.
77 guitar and studio effects, including reverbs with BREVERB 2 effects.
More than 1000 presets, covering any musical styles.
The official emulation of amplifiers under the brand Randall, THD, DVmark and Brunetti.
Technology Amp Tweak.
3D, without skipping microphone positioning and room simulation.
Advanced cabinet emulation with ReSPiRe 2 technology.
Fully customizable MIDI control for real-time use.
The component of the IR cabinet allows you to load external pulses.
Flexible audio circuit with split point for parallel processing.
Built-in chromatic tuner.
BREVERB and SpringAge based on reverb effects.
Fully compatible with TH3 user presets.
Overloud British Classics Rig Library
British Classics is a TH-U Rig Library containing 29 legendary British amp models (29 amps + 29 cabs) and 29 presets.
The Rig Models are created by capturing setups with the following amplifiers *:
Blackstar HT 40 OD channel – 1×12 Clst cab
Blackstar HT5 Clean channel – 1×12 cab with SM57 mic
Blackstar HT5 OD channel – 1×12 cab with Royer 121 mic
Cornell Romany Clean channel – 1×10 combo speaker
Cornell Romany Crunch – 1×10 combo speaker
Cornell Romany OD channel – 1×10 combo speaker
Laney GH100L Clean channel – 4×12 vintage cab
Laney GH100L Crunch – 4×12 vintage cab
Laney GH100L OD channel – 4×12 vintage cab
Laney Ironheart Studio Clean channel – IRT212 cab
Laney Ironheart Studio OD channel – IRT212 cab
Marshall 1959 Randy Rhoads – 4×12 Greenback cab
Marshall JMP 1987 – 1960AV 4×12 cab
Marshall JMP50 1976 – 4×12 1960AV cab
Marshall JMP50 Clean – 4×12 Greenback cab
Marshall Origin 20C – 1×10 Celestion cab
Marshall Superlead 1973 Golub Mod – 4×12 Greenback cab
Orange Micro Dark Dist – 1×12 PPC112 cab
Orange OR15 Clean – 1×12 PPC112 w / Royer 121 cab
Orange Rockerverb 50 – 2×12 combo w / SM57
Orange Rockerverb 50 Lead – 4×12 1960AV cab
Orange Thunderverb 50 Crunch – 2×12 Vintage 30 cab
Orange Thunderverb 50 Dist – 4×12 PPC412 cab
Victory Kraken Od – 4×12 Vintage 30 cab
Victory V40 Crunch – 2×12 V212VV Clst cab
Victory V40 Lead – 2×12 V212VV Clst cab
Vox AC15 Heritage Boost – 1×12 alnico alnico
Vox AC30 Top Boost – 2×12 combo w / U47
Vox Cambridge Reverb – 1×12 combo speaker
New in version:
In addition to the features available in the TH3 Full version, TH-U Full includes:
15 new amplifiers, including the Superlead and Superbass models, Triple jazz amplifiers and DVmark Triple 6 head
14 new cabinets
Rig Player (with 20 factory rigs), R2M (Rig To Model) technology
Amp Tweak: mod amplifiers by customizing pre and power tubes
A Shimmer Reverb and a Shimmer Delay
An improved and redesigned Cabinet IR module
A new multitrack looper
Search function on the preset and bank lists