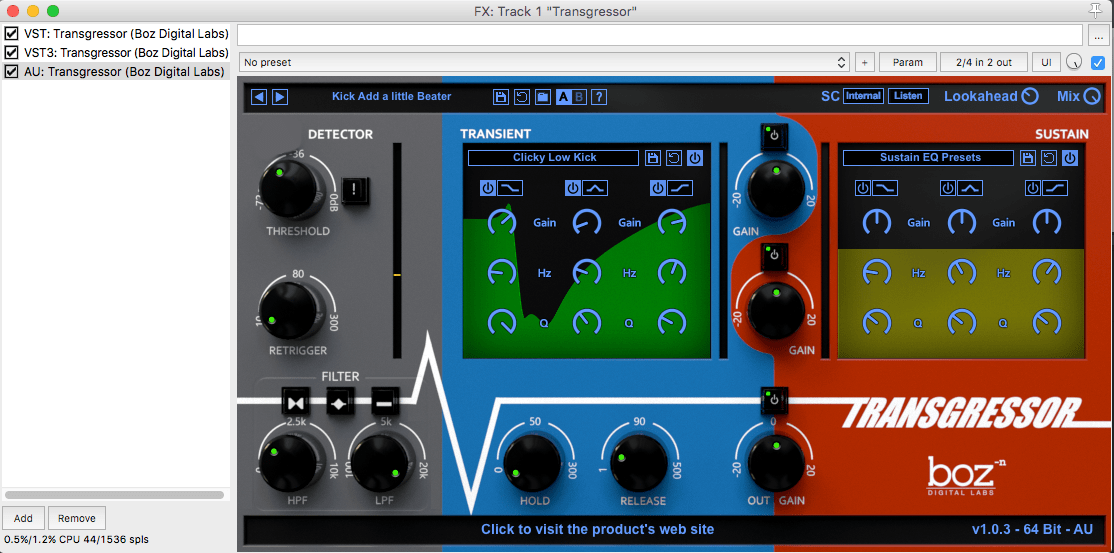 Year of manufacture : 2017
Version : 1.0.3
Developer : Boz Digital Labs
Developer's site : Boz Digital Labs
Platform : iNTEL
Format : VST, VST3, AU, RTAS, AAX
Bit depth : 32bit, 64bit
Language : English
Tablet : Keigen (requires a Windows emulator)
System requirements : OSX 10.5+ VST2, VST3, AU, RTAS, AAX Native
Description : The Transgressor is the perfect plug-in for manipulating the reels. You will no longer be limited to the sound of your drums. From subtle improvements to full overhaul, Transgressor gives you quick and easy access to editing drums without limits.
Not just another transient editor: Transgressor is a new standard for transient shapers. While these plugins allow you to control the level of your transients, we found that the approach just never gave us the results we were looking for. While adjusting the level of transients can certainly affect your sound, real power comes from the possibility of EQ.
Equalization of transients: The Transgressor gives you 2 equalizers. One for attack and one for sustain, allowing you to accurately shape how you want your attack to sound. Whether it's a hard blow, tight drums or large, steady drums, the Transgressor lets you make them sound like you want. Do you want to add the clutch to your snare without increasing the noise? Do you need to reduce the amount of ringing in the snare without changing the tone? Transgressor does this easily.
The magic of the sidechain: In addition to being completely in control of the transients, Transgressor adds one more level of creativity, allowing you to use the detector as a sidechain. This allows you to adjust the equalizer and sustain of any instrument that is controlled by another tool.

Sponsored Links